Pakistan hits back, refuses to let accident-accused US diplomat leave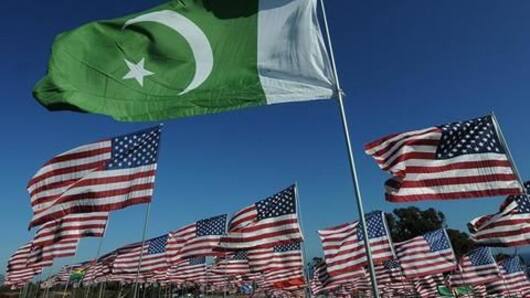 In the latest in a series of retaliatory actions against each other, Pakistan yesterday turned back a US aircraft that had arrived to collect Col Joseph Emanuel Hall, a diplomat involved in a fatal road accident.
This came a day after both countries placed travel-restrictions on each others' diplomats.
While US' ties with Pakistan have been souring, it has been strengthening relations with India.
In context
Pakistan-US ties go for a toss
Accident
Hall was reportedly intoxicated when he hit a bike
Pakistan has accused Hall, a military attaché, of jumping a red-light and killing a biker and injuring the pillion-rider in Islamabad on April 8. He was reportedly intoxicated.
It claimed this is the third road-accident in which US diplomats killed people, but were never put to trial because of their immunity.
The US has again claimed Hall enjoys diplomatic immunity under the Vienna Convention.
What happened
Amid bilateral arguments, US sent plane to pick up Hall
Pakistan wants Hall to stand trial in Islamabad, and demanded the US waive his immunity, but the latter has refused.
Instead, the US sent in its C-130 into Islamabad at 11.15am from Bagram airbase in Afghanistan yesterday to collect him.
When Hall reached the air base five minutes later, the officer on duty held him back.
The aircraft returned to Bagram sans Hall.
Love World news?
Stay updated with the latest happenings.
Notify Me
Restrictions
A day ago, tit-for-tat retaliatory travel restrictions
A day earlier, the US barred diplomats at the Pakistani Embassy from traveling outside a 25-mile radius around Washington without approval.
Islamabad retaliated the same day: apart from travel restrictions, it also banned tinted windows on embassy cars and use of diplomatic plates on diplomats' personal vehicles.
Both said they would analyze the conditions on a case-by-case basis.
History
This was only the latest in a series
This series of actions began January, when the US suspended over $1.15bn in security assistance to Islamabad for its inaction over home-based terror.
This came right after it placed Islamabad on a "Special Watch List" for failing to safeguard religious minorities.
In March, in a move that infuriated Islamabad, Pakistan PM Shahid Khaqan Abbasi was 'frisked' at a US airport during a "private" visit.
India
India simultaneously ups the ante on Pakistani diplomats
Incidentally, in a first, India's National Investigation Agency (NIA) named Pakistani diplomats in their 'wanted' list last month.
The central body is seeking information about Amir Zubair Siddiqui, a visa counsellor at Pakistan High Commission in Colombo, and three other Pakistani officers for planning terror attacks akin to Mumbai's 26/11 on the US, Israeli consulates and Army, Navy commands in South India in 2014.
Impact
What do the changing dynamics mean for India?
Analysts say US' stricter stance towards Pakistan might push it closer to China and Russia, its adversaries.
It also might lead to deteriorating ties with India; Foreign Minister Asif said US has been "talking in the language of India".
Importantly, it might change dynamics in the South Asian region, even as India emerges as a major power.