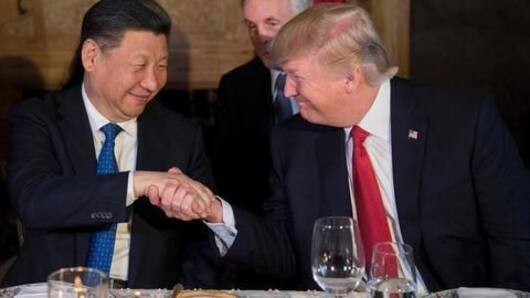 China, US avert trade-war: Beijing agrees to import more American-products
China and the US averted a trade war by reaching an agreement today under which Beijing has agreed to "significantly increase" its purchases of American goods and services to reduce $375bn trade deficit with Washington.
US President Donald Trump has threatened punitive measures against Chinese goods if Beijing doesn't cut down trade deficit by $100bn in a month and $200bn by 2020.
Here's more.
US claims to have $375bn trade deficit, China says $200bn
The US had said it has $375bn trade deficit in $636bn total trade last year. China said the trade deficit is around $200bn.
China too threatened a tit-for-tat retaliation but blinked in end with a categorical undertaking to import more goods from the US.
"To meet growing consumption of Chinese people, China will significantly increase purchase America's good and services," the joint statement said.
China to amend its laws and regulations
The two sides agreed on meaningful increases in the US's agriculture and energy exports, Vice Premier Liu He said, adding the US will send a team to China to work out the details.
The two sides also discussed expanding trade in manufactured goods and services.
China will advance relevant amendments to its laws and regulations in this area, including Patent Law, joint statement added.
Love World news?
Stay updated with the latest happenings.
Yes, notify me
When did the whole idea of trade war begin?
Trade spat between the top two economies began last month with Trump imposing tariffs on steel and aluminum imports into the US. China retaliated by imposing additional tariffs worth about $3bn on 128 US products.
Trump retaliated with $50bn tariffs on Chinese products. In retaliation, China planned to impose new tariffs of 25% worth $50bn on 106 American products.
But, tariffs haven't implemented yet.
Democratic Party slammed Trump over outcome of meeting with China
Meanwhile, the opposition Democratic Party criticized the Trump Administration of having failed to make much progress in trade disputes with China.
"The key to a strong agreement is protecting our intellectual property in America and stopping the Chinese from keeping out our best goods. The joint statement has nothing specific on those fronts," Senate Minority Leader Chuck Schumer said.
Meeting may signal that US is a weak negotiator: Schumer
"There is no mention of ZTE. If the administration capitulates on ZTE and allows it to continue to exist, even if they are fined, that will signal to President Xi that we are weak negotiators," Schumer alleged.
Last month, US blocked the Chinese ZTE Corporation from importing American-components for seven years.
But, Trump later said he would help ZTE to get "back into business".