World
Putin and Erdogan concede to refurbish ties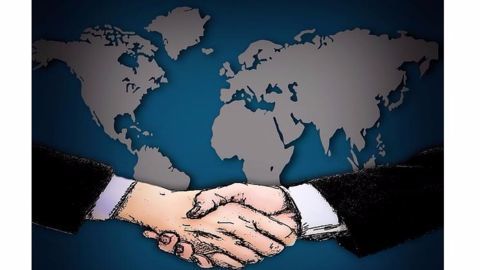 More than six months after a Russian military jet was downed by Turkey, leaders of the two countries spoke for the first time.
According to Turkey President Mr. Recep Tayyip Erdogan's office, he and Vladimir Putin decided to meet in person over a phone call.
This happened after Turkey asserted regret to Mr. Putin and to the family of the Russian pilot, who was killed in the incident.
In context:
The tiff between Russia and Turkey
24 Nov 2015

Turkey shoots down a Russian warplane
On 24th November, 2015, an all-weather attack aircraft, the Russian Su-24, was shot down by Turkish F-16s in the Turkey-Syria border area.
Accommodating two crew members, the plane was at an altitude of 19,685ft when it was hit by an air-to-air missile.
Crashing in the mountainous area of the Syrian province of Latakia, it killed the pilot as well as a marine sent on a rescue mission.
Reasons

Justification from Turkey's end
Permanent Representative of Turkey, Halit Cevik, writing a letter to the UN Security Council, said that two aircrafts of unknown nationality were ascending upon Turkey's airspace.
Both planes were warned several times via an "emergency" channel and asked to change direction.
The 1st plane left the Turkish national airspace. The 2nd plane was fired at and crashed onto the Syria side of the Turkey-Syria border.
Love World news?


Stay updated with the latest happenings.
Russia's response

According to Mr. Putin, the Su-24 was 1km into the Syrian territory when it was hit. Capt. Konstantin Murakhtin, the second pilot who survived the crash said that he hadn't received any sort of warning before being hit.
Aftermath

Reactions from the Russian President
President Putin refused to speak with Turkish President Recep Tayyip Erdogan, despite the latter's phone calls.
He expected a formal and public apology from Turkey with regards to the matter.
He maintained that the Su-24 had been carrying out "preventative attacks" against the IS in Latakia and had "posed no threat".
"This was a stab in the back by the accomplices of terrorists", Putin said.
Action

Sanctions on Turkey imposed by Russia
Following the shooting down of the Russian Su-24 by the Turkish F-16, the reciprocal visa-free regime that Russia shared with Turkey was suspended.
Importing fruits, vegetables, poultry and salt from Turkey was banned.
Charter flights to and from Turkey were banned and Russian travel firms were asked to stop telling Turkish holidays.
Turkish citizens working for Russian firms too faced several restrictions.
Turkey's Tourism

Attracting 3.3 million visitors in 2014, Turkey was the second favourite holiday destination of the Russians. The country risks losing $3.5 billion annually in income from Russian tourists.
Love World news?


Stay updated with the latest happenings.
27 Jun 2016

Turkey expresses remorse for downing Russian jet
On 27th June, 2016, Mr. Erdogan apologised for the fate of the Russian military jet on the Turkey-Syria border.
Speaking of his deep regret over what happened, he added that he wanted to restore relations.
In the letter that he wrote, Mr. Erdogan stated that, "Russia is a friend to Turkey and a strategic partner, with which Turkish authorities would not wish to spoil relations."
30 Jun 2016

Putin and Erdogan concede to refurbish ties
29 Aug 2016

Russia resumes charter services from Turkey
Russia lifted the ban on charter flight operations between Russia and Turkey after ties soured over Turkey's downing of a Russian fighter jet.
Russian Prime Minister Dmitry Medvedev signed the decree, changing laws surrounding chartered air transportation between Russia and Turkey.
Turkey welcomed the move, having suffered a 15% loss in annual revenue due to the implications of the ban.