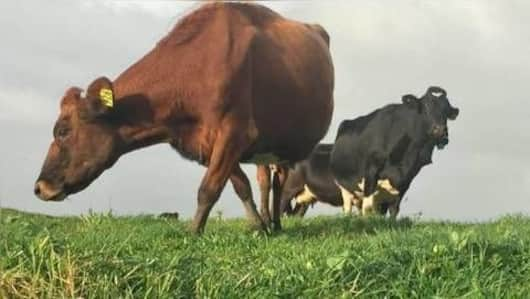 New Zealand to kill 150,000 cows. Here's why
Politicians and industry leaders in New Zealand have announced an ambitious but desperate plan to slaughter 150,000 infected cows over the next year or two to eradicate a disease-causing bacteria from the country's herds.
The plan will cost hundreds of millions of dollars but, if executed successfully, will become the first incident of an infected country completely eliminating Mycoplasma bovis.
Here's more.
What is Mycoplasma bovis?
Mycoplasma bovis is a bacteria found mostly in the US and Europe. The disease-causing bacteria causes cows to develop several diseases like mastitis, pneumonia, arthritis and so on. While Mycoplasma bovis isn't considered a threat to food safety, it can cause significant production losses.
So far, Mycoplasma bovis has been found in 38 farms
Last July, Mycoplasma bovis was found in New Zealand for the first time.
So far, the disease-causing bacteria has been located in 38 farms across the country, and the number is expected to increase to 142 farms based on computer-generated models.
Officials said that the bacteria can be traced back to one farm, and is likely it arrived 18 months ago, prior to detection.
Love World news?
Stay updated with the latest happenings.
Yes, notify me
How the New Zealand government plans to go about it
Officials said that the government, as a precautionary measure, plans to kill all cows on all farms where Mycoplasma bovis is detected, even if some of the animals are healthy.
Many of the ill-fated cows will be slaughtered in processing plants and used for beef.
The rest will be killed and buried in the farms themselves, or will be dumped in designated landfills.
Progress and estimated costs
Around 24,000 infected cows have already been killed in recent months, and at least another 128,000 need to be culled over the next couple of years. The long-term cost of this eradication programme is estimated to be around $616mn over ten years.
Cows and the New Zealand economy
Farming is vital to the island nation of New Zealand, which is home to over 10 million cows - almost double the country's human population.
With two-thirds of these cows being dairy cows and the rest being beef cattle, safeguarding them is a top priority for New Zealand, whose largest export is milk and milk products, most of which go to China.