World
Argentina's 'Arturo' dies at 30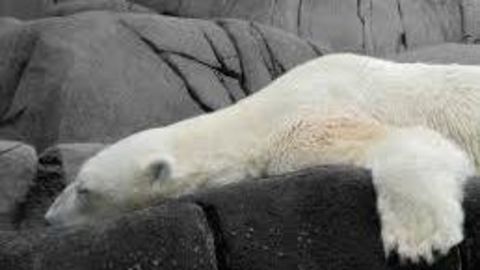 Argentina's sole polar bear, Arturo, died aged 30, zoo officials said.
The officials cited a deteriorating health and imbalances in his blood circulation caused his ailing body to take a turn for the worse.
Arturo was said to have suffered depression when his partner died of cancer in 2012, and ever since has almost become blind, lost his sense of smell and his appetite.
In context:
Argentina's sole polar bear dies aged 30
Arturo: Last living polar bear in Argentina

Arturo was the last living polar bear in Argentina after another polar bear, Winnier, bore the brunt end of a heat wave in the country, which soon caused its death. Movements for the release and relocation of these animals have been ongoing.
Activist movement

Polar bear Arturo in 'World's Saddest Animal' campaign
In 2014, animal activist groups started out on a petition movement, when they realised that Arturo was soon becoming prone to health imbalances.
The temperatures in Mendoza, Argentina, where the zoo is located, has at times risen to over 30 degrees.
With the temperatures unable to suit any polar animal, the activists raised a measure to have him transferred to a zoo in Canada.
Love World news?


Stay updated with the latest happenings.
23 Jul 2014

Officials reject petition, cite transfer issues
The Argentinean zoo Director said the petition to transfer Arturo to a colder zone, in Canada, had been rejected.
The rejection was on the ground that the 28-year old polar bear would not survive the necessary sedation for its transfer.
Arturo was brought in to the zoo from US when he was 8, although he had recently started developing health issues in the zoo.
Argentinean officials on the petition rejection

"Arturo is close to his caretakers, we just want everyone to stop bothering the bear." - Gustavo Pronotto, Argentina zoo Director told reporters upon rejection of the petition, also saying that official vets have deemed it to be the best option.
Animals' death in Mendoza zoo

Death of animals in Argentina zoo, zoo shuts down
The Argentinean zoo in Mendoza reported that over 60 animals has died in its premises, over the last six months.
The recent string of deaths have been attributed to bacterial infections that are on the rise.
The zoo, after being in operation for over 140 years said that it would be shutting down soon to visitors, and concerted into an ecological park.
06 Jul 2016

Argentina's 'Arturo' dies at 30