World
Pakistani philanthropist Abdul Sattar Edhi dies aged 88.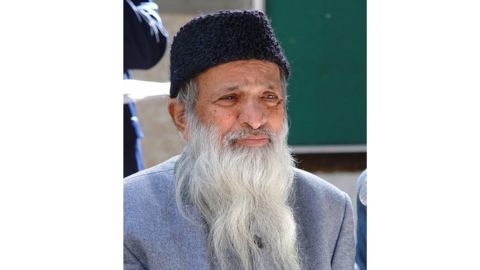 A celebrated humanitarian,Edhi passed away on Friday following renal failure after being hospitalized for several weeks.
Pakistan's PM Nawaz Sharif announced a state funeral and declared Pakistan's highest civilian award for the deceased social-worker.
Sushma Swaraj expressed condolences for Edhi who 'dedicated his life in service of mankind'.
His eyes will be donated according to his wishes.
He will be buried in Edhi village.
In context:
Pakistan's 'Mother Teresa' Abdul Sattar Edhi passes away
Born in 1928 in a small village Bantva in Gujarat district of then British-ruled India, Edhi migrated to Pakistan in 1947 where he made a living by selling cloth.
He established a free Bantva dispensary which marked the beginning of his charity work.
His Edhi Foundation, a non-profit social welfare program, was founded in 1951.
He married Bilquis Bano in 1965.
Foundation

Abdul Sattar Edhi's welfare organization 'The Edhi Foundation'
Established in 1951,the foundation has 2,000 ambulances and runs hospitals,orphanages, morgues,legal aid offices,centers for the abandoned and drug-addicted.
It also actively provides international relief-it gathered funds for the Hurricane Katrina victims in 2005 and for the Gulf War victims in 1991,and in 2015 provided earthquake relief and assistance in Nepal.
Handed back Geeta,who had strayed across borders 15 years ago to India,in October 2015.
Love World news?


Stay updated with the latest happenings.
The Cradle Project

Headed by Bilquis Edhi, it's one of the Edhi Foundation initiatives. It allows people to leave their unwanted progeny there, hence playing a huge role in curbing infanticide. It provides for adoption and those who are not adopted,the couple signs on as their adoptive parents.
Description

Abdul Sattar Edhi, a true humanitarian
Edhi lived in a bare room in Karachi with only 2 pairs of clothes.
He was quoted saying that his mission was to love human beings and he found peace in knowing that he had helped an injured person.
He was extremely vocal in criticizing groups like Tehreek-e-Taliban Pakistan for civilian attacks.
He also declined a Rs.1-crore contribution from Narendra Modi in October 2015.
Appreciation and Awards

Edhi won accolades for his work at home and abroad- including the Gandhi peace award,the 2007 Unesco-Madanjeet Singh prize, the 2011 London peace award, the 2008 Seoul peace award, the 1986 Ramon Magsaysay Award and the Hamdan award for volunteers in humanitarian medical service.
09 Jul 2016

Pakistani philanthropist Abdul Sattar Edhi dies aged 88.