Woman sues NASA to keep moon-dust gifted by Neil Armstrong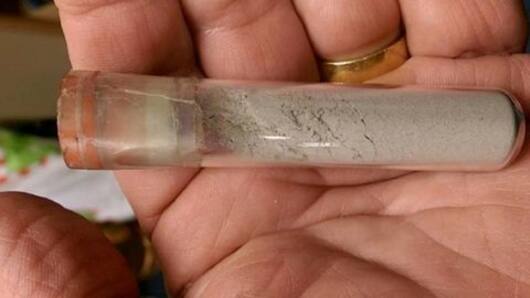 In a rather peculiar case, a Manchester, Tennessee resident has sued NASA. She wants to keep a vial of moon dust given to her by Neil Armstrong, when she was 10 years old.
The space agency, however, maintains citizens can't possess extraterrestrial objects. On her part, Laura Murray Cicco claims no law outlines this, in her lawsuit she filed on Wednesday.
In context
Neil Armstrong 'gave' woman dust, she sues NASA
The past
Earlier, California woman attempted selling paperweight having lunar material
In 2011, NASA informed the court that citizens can't keep such items, upon learning that a California-based woman Joann Davis tried selling a paperweight containing lunar material.
Davis' late husband, who was an engineer on Apollo 11 -the spacecraft that took Armstrong to space, gave her the item.
Now, Cicco is challenging NASA to ensure the vial (whose size is equivalent to a lipstick) stays with her.
The gift
Apparently, Neil Armstrong was friends with Cicco's father
Cicco claims Armstrong was friends with her father and gave her vial with a note- "To Laura Ann Murray - Best of Luck - Neil Armstrong Apollo 11."
She filed a lawsuit to get ahead of the agency after Davis' incident, in hope of keeping what is 'rightfully theirs'.
She got an expert to confirm it was Armstrong's signature, and the result was affirmative.
Love World news?
Stay updated with the latest happenings.
Notify Me
Details
Expert claims Cicco's vial may have originated from lunar regolith
An expert, Tom Tague of the Bruker Corporation said the vial "may have originated from lunar regolith."
The lawsuit states lunar material is not contraband. "She (Cicco) is the rightful and legal owner."
Notably, Davis too had sued NASA for spying on her and claimed the agency's search was unlawful. She had settled the case for $100,000.
Looking back
NASA gifted 'forbidden' items to people in past. Paradox much?
Ironically, NASA has a history of gifting moon's objects to influential people. So far, 842 pounds (382 kg) of moon rocks have been collected by astronauts and brought home.
In the past, NASA presented plaques containing silver of moon rocks to famous people, some of which found a way to black market.
But, a vial of moon dust poses a huge problem!