"Me-or-dogs": After ultimatum, wife makes man pack his bags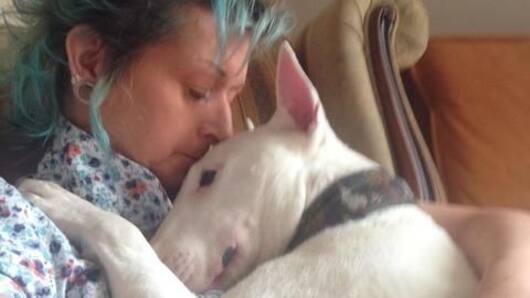 The next time you think of asking your dog-lover partner to slow down, think again.
When Mike Haslem of Suffolk County, Britain, gave an ultimatum to his wife of 25 years, Liz- "It's me or the dogs"- she didn't think twice.
She claims she never heard from him since, and that she's never been happier.
The 49-year-old is currently looking after 30 rescue dogs.
In context
Woman gives up her husband for rescue dogs!
Family
Liz's love for dogs was born decades ago
Liz's love for dogs was born when she was a child; her mother bred West Highland Terriers while her father owned an animal food business.
So when she met Mike at 16, "he knew what I was all about," she says. The couple now share a 21-year-old son.
But time takes a toll: as Mike drowned himself in work, she dived into her passion.
Beginning
Her husband's busy schedule made her look for work
"I didn't want to be a work widow," Liz explains, and she figured out her salvation. When the couple shifted into a farmhouse in Barnham, Suffolk, with half-acre of land seven years ago, she decided to start a boarding kennel business.
Eventually, Liz founded BedforBullies, a group that rescues Bull Terrier dogs. On the side, she started fostering dozens of pooches.
Love World news?
Stay updated with the latest happenings.
Notify Me
Marriage
But the couple kept drifting apart
Since then, Liz has rescued around 200 dogs. She's been managing her bills by keeping holiday dogs.
But her marriage suffered. Eighteen months ago, Mike had "had enough," she says.
"Before we split up he kept saying 'I do not want to be doing this'," she recalls.
"I said that isn't going to happen so we might as well go our separate ways."
Status
Liz now living happily with her 30 rescued dogs
Currently, Liz spends 18 hours a day looking after her dogs, many of which need extra care - five are deaf, two are partially blind, and one has brain damage.
"I can't just turn around and say I'm not going to do it anymore, it's my responsibility."
Amidst all this, she's also looking after a homeless man.
But Liz insists she's as happy as she can remember.