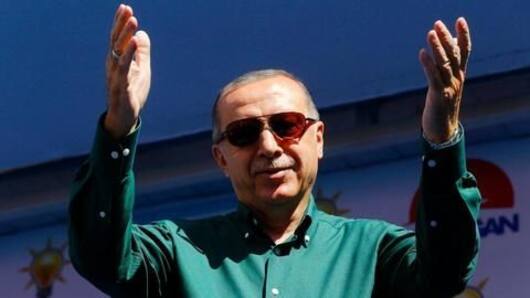 Turkey Presidential election: Erdogan claims outright victory in first round
Turkish President Recep Tayyip Erdogan has won tightly-contested presidential polls after securing outright victory in the first round, the election authority said, tightening his grip on the nation he has ruled for 15 years.
Erdogan won 52.5% votes, while his nearest rival, Muharrem Ince, of secular Republican People's Party (CHP) got 31.5% vote, state-run Anadolu news agency said based on a 99% vote-count.
Erdogan will be the first President to enjoy enhanced powers
With this victory, Erdogan will be the first President to enjoy enhanced powers under a new constitution agreed in April 2017 referendum strongly backed by Erdogan but the opponents called it a blatant power grab.
Erdogan said that his ruling Justice and Development Party (AKP) and its allies Nationalist Movement Party (MHP) had together retained their control of parliament.
Turkish voters cast ballots in snap election for first time
Turkish voters had for the first time cast ballots for both President and Parliament in snap elections.
"Turkey has given a lesson in democracy to the entire world," Erdogan said, pointing to an 88% turnout.
Trailing were Selahattin Demirtas of the pro-Kurdish Peoples' Democratic Party (HDP) with over 8% in third and Meral Aksener of the nationalist (Iyi) Good Party with over 7%.
Love World news?
Stay updated with the latest happenings.
Yes, notify Me
Second largest opposition
HDP's Demirtas campaigned from a jail cell, got 11.5% voting
The HDP was polling 11.5% to win 67 seats which would make the party the second largest opposition faction.
Celebrations erupted in the Kurdish-majority city of Diyarbakir, with people letting off fireworks into the sky.
Its success is all more remarkable given the HDP's Demirtas has campaigned from a jail cell after his November 2016 arrest on charges of links to outlawed Kurdish militants.
Erdogan warns against casting doubts on the results
Erdogan also warned anyone against casting doubt on the results, saying "I hope nobody will harm our country's democracy by casting a shadow on the election system and its results in order to disguise their failure."
Foul play over the conduct of vote count: CHP
Vote counting showed that Erdogan's AKP-MHP would win 293-50 seats respectively, enough for a majority in the 600-member chamber.
But CHP expressed unease over the conduct of count, accusing Anadolu news agency of being over-hasty in publishing results favoring Erdogan.
CHP spokesman Bulent Tezcan said Anadolu had published a count of over 90% of votes while in fact short of 40% had been counted.
Erdogan first came to power in 2002
Erdogan has overseen historic change in Turkey since his Islamic-rooted ruling party first came to power in 2002 after years of secular domination.
But critics accuse the 64-year-old Turkish strongman of trampling on civil liberties and autocratic behavior.
The President has, for the last two years, ruled under a state of emergency imposed in the wake of the 2016 failed coup.