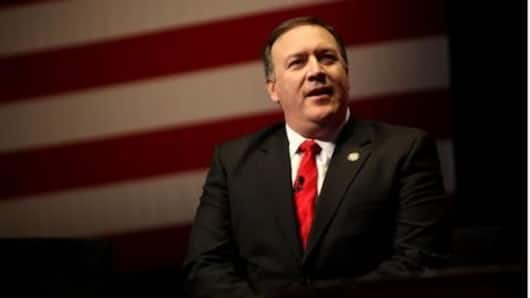 Pompeo postpones '2+2 dialogue' with India to visit N-Korea this-week
US Secretary of State Mike Pompeo, who last week abruptly announced the postponing of the July 6 "2+2 dialogue" with India, will be traveling to Pyongyang this week.
During a week-long-trip from July 5 from Pyongyang, as part of his continued consultations with North Korea on the denuclearization issue, the top diplomat will have stops in Tokyo, Hanoi, Abu Dhabi and Brussels.
Here's more.
White House refuses to comment on reports about N-Korea cheating
White House refused to comment on reports saying N-Korea was planning to conceal its nuclear weapons. "We are not going to confirm or deny any intelligence reports. What I can tell you is... we're continuing to make progress," White House Press Secretary Sarah Sanders said.
Pompeo's two-day visit to Pyongyang
Pompeo would be in Pyongyang from July 5-7 to flesh out the agreement reached by President Trump and N-Korean Chairman Kim Jong-un in Singapore.
"He would spend the next two days in Tokyo where he will meet Japanese and South Korean leaders to discuss their shared commitment to the denuclearization of N-Korea, as well as other bilateral issues," State Department spokesperson Heather Nauert said.
Love World news?
Stay updated with the latest happenings.
Yes, notify me
Pompeo to visit Hanoi, Abu Dhabi before reaching Brussels
On Sunday, Pompeo will carry on to Hanoi for talks with the Vietnamese Government and the week after he will continue on to the Emirati capital Abu Dhabi before arriving in Brussels on July 10, Nauert said.
She added that Pompeo will meet with UAE leaders to discuss ways to further strengthen the US-UAE partnership and advance their common security and economic priorities.
Pompeo to accompany Trump to NATO summit in Brussels
Pompeo will accompany Trump to a NATO summit in Brussels on July 10-12, where discussions would be held on increased defense spending and burden-sharing, enhanced deterrence and defense, and NATO's strengthened efforts to fight terrorism.
He will also participate in the US-EU Energy Council and co-host a meeting of foreign ministers of the global coalition to defeat ISIS with NATO in Brussels, Nauert said.