World
California wildfire makes 100s flee homes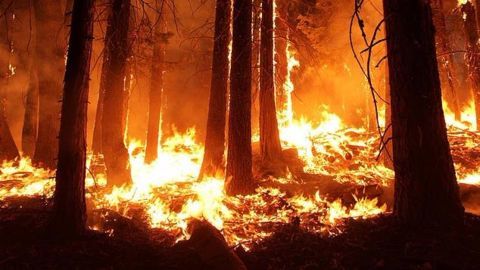 Hundreds of people living in the northern mountains of Los Angeles, California, have been compelled to leave their homes because of fast-spreading wildfires.
Approximately, upto 300 people have been evacuated near the city of Santa Clarita.
The wildfire is given the name 'Sand Fire' because it broke out in Sand Canyon on the afternoon of 22nd July, 2016.
In context:
The deadly Los Angeles' Sand Fire
Background

California Wildfires
The dry, windy and hot weather condition from late spring to autumn has been a cause of many moderate to devastating wildfires in California.
These wildfires are sometimes fanned or made worse from strong, dry winds known as Diablo winds in the northern region of the state and Santa Ana winds in the south.
Wildfires can lead to property losses worth billions of dollars.
Fighting Wildfires

About $3 billion a year is paid by US taxpayers to fight wildfires - triple of what it used to cost in the 1990s.
Love World news?


Stay updated with the latest happenings.
24 Jul 2016

California wildfire makes 100s flee homes
Current Situation

The wildfire that broke out on 22nd July, 2016, has grown to span more than 2000 acres and is only 10% contained. It has now spread into the Los Angeles National Forest, home to thousands of species of birds and mammals.
Fighting fire

Tackling the blaze
According to reports, over 900 fire fighters are engaged in tackling the enormous blaze.
The are said to be assisted by helicopters and aircraft dumping thousands of gallons of water and fire retardant substances on the fire.
Officials said that over 400 exotic animals who were rescued and put up in the Wildlife Waystation in the Los Angeles National Forest were evacuated safely.
Causes

What is fuelling the growth of the fire?
According to Los Angeles County Supervisor, Michael Antonovich, "excessive heat, low humidity, extreme dry fuels that have not burned for several decades and very rugged terrain" is causing rapid fire growth.
Los Angeles County Fire Chief Daryl Osby said, "Because this is the fifth year of an ongoing drought, this fire has increased to 11,000 acres just overnight.''
Love World news?


Stay updated with the latest happenings.
Fire Department issues warning

John Tripp, a Los Angeles County Fire Department Deputy Chief, warned at a noon news conference, "Those residents have to be watching the weather, watching the media, and have to be ready to evacuate."
25 Jul 2016

California fire gains momentum
Over 18 houses were gutted in Los Angeles as the massive wildfire gained momentum in California.
Fire fighters said it was the most extreme fire they have witnessed in the season, saying it could take several days to put out.
The massive amount of smoke emanating from the fire has forced fire fighting aircraft and helicopters to remain grounded, hampering operations.
18 Aug 2016

'Blue Cut' fire forces over 80,000 evacuations in California
As weather conditions worsened, a new fire that erupted between California and Nevada has forced over 80,000 people in the region to flee their homes.
The blaze started on Tuesday night and significantly gained momentum due to the dry, hot weather conditions.
Over 1,300 firefighters are engaged in tackling the blaze, and senior officers have called it the worst fire they have ever seen.
20 Aug 2016

96 houses burnt down as 'Blue Cut' fire rages on
Over 96 houses were burnt to the ground in the massive 'Blue Cut' forest fire that continues to sweep across the state of California.
The fire which has spread across over 37,000 acres of forest land also destroyed over 200 forest guest houses, lodges and other structures.
However, firefighters said they have contained over 40% of the blaze and hope it will end soon.