India invites Donald Trump as 2019 R-Day chief guest: Report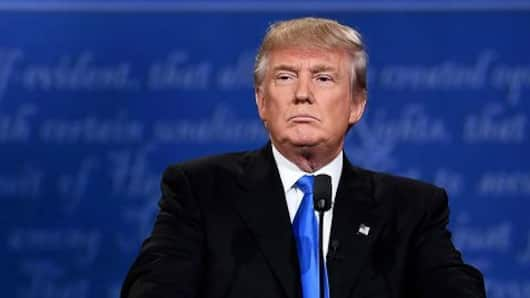 India has invited US President Donald Trump as the chief guest at the 2019 Republic Day function, TOI has reported.
The US administration is still mulling it, but TOI says they're considering it "favorably."
This comes even as the two countries try to settle differences over trade tariffs, migration visas and India's closeness with Iran.
Incidentally, Trump's predecessor Barack Obama was Narendra Modi's first R-Day guest in 2015.
In context
Donald Trump to be India's 2019 R-Day chief-guest?
Policy
The Modi government has invested heavily in R-Day guests
Since he came to power, Modi has made it a point to invite top world leaders to the R-Day event. After Obama, former French President Francois Hollande (2016) and Abu Dhabi Crown Prince Mohammed bin Zayed Al Nahyan (2017) made an appearance in Delhi.
This year was grander. All the 10 heads of the ASEAN countries were invited.
Ties
Bilateral ties aren't at a high right now
The invite to Trump comes at an opportune moment. The Indian government is presumably hoping to bridge the current diplomatic gap.
The US is hesitating to build bilateral ties amid India's historical ties with Iran, and has threatened to impose sanctions on those importing crude oil from there.
India's proposed deal with Russia for S-400 missile defense-system has also raised eyebrows in the US.
Love World news?
Stay updated with the latest happenings.
Notify Me
Pros
If Trump agrees, the BJP government could get a boost
The Modi government is looking to kill many birds with one stone. If Trump does agree to come, it might help India's chances of getting a waiver from his proposed sanctions.
It will also help them address foreign policy criticism, which came on the back of setbacks in recent times.
It helps that the event will happen just a few months before the crucial 2019 elections.
History
Recently, US canceled a high-profile meet with India
Modi and Trump have met thrice. The first time, when Modi visited US in June'17, was a success.
However, by their third meeting in November at the ASEAN Summit in Manila, Modi reportedly felt Trump "treated him like just another Asian leader."
India and US were to meet at a high-profile '2+2' dialogue on July 6, but the US cancelled it citing "unavoidable reasons."