World
China and Russia to hold drills in South China Sea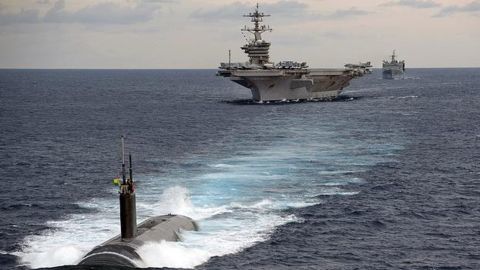 In a sign underscoring deepening military ties, China and Russia will hold joint naval exercises in the South China Sea.
According to China's Defence Ministry spokesman the drill will "enhance the capabilities of the two navies to jointly deal with maritime security threats".
The announcement comes on the heels of an unfavourable ruling towards China at the International Tribunal of Hague.
In context:
Deepening Sino-Russian ties
Hague Ruling

South China Sea Dispute
The South China Sea dispute concerns the territory and sovereignty of ocean areas and strategically located island chains, Paracel and Spratly, that several countries claim in whole or in part.
China's claims rest on a 'nine-dash line' which the Hague recently invalidated by ruling that there is no legal basis to it.
Sino-Russian naval exercises come at a tense time in these contested waters.
What is the 'nine-dash line'?

China's claims to the South China Sea is based on the 'nine-dash line' that was drawn in 1948 by the Republic of China. China has never articulated what the 'nine-dash line' actually means and the ambiguity has led to range of interpretations.
Love World news?


Stay updated with the latest happenings.
Background

Sino-Russian Ties
Sino-Russian ties have been significant for years but they were strengthened when sanctions were imposed on Russia in 2014 post Crimea's annexation.
The US decision to install a High-Altitude Missile system in South Korea despite opposition from Russia and China brought them closer.
Over the last decade, China in concert with Russia used its veto power at the UN 6 times challenging Western leadership.
Parameters

Comprehensive Strategic Partnership
China conducts counter-terrorism exercises with Russia on an annual basis.
The joint military exercises were recently held in September 2016. This was the seventh joint naval drill conducted by China and Russia since 2005.
The two countries also participate in trilateral and multilateral exercises under Shanghai Cooperation Organization to improve their tactical and operational capabilities.
Program

Earlier China-Russia sea drills
In 2015, Joint Sea Drills were conducted partially in the Mediterranean and in the Sea of Japan.
According to a US Department of Defence report, phase one of the joint drills focused on combating terrorism and protecting lines of sea communication.
Phase 2 comprised of joint air defence drills, simultaneous amphibious landings and anti-surface ship drills.
29 Jul 2016

China and Russia to hold drills in South China Sea
Love World news?


Stay updated with the latest happenings.
03 Jan 2017

China receives advanced Sukhoi fighter jets from Russia
After a delay of two years, fearing that its jet will loose value after the unveiling of the J-20 stealth fighter by Chinese military, Russia delivered four Sukhoi Su-35 fighter jets to China.
Su-35s are an advanced version of the Su-30s used by the Indian Airforce.
According to reports, the delivery was made on 25th December, 2016.