World
Japan's Emperor indicates his desire to abdicate in a video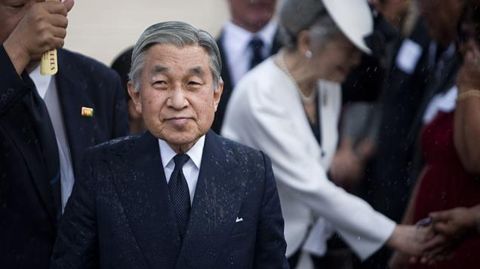 In a 10-minute pre-recorded message, only the second time he addressed people this way, the 82-year old Emperor described how his declining health was curtailing his abilities to fulfill his duties.
He did not directly comment on his wish to abdicate, as it might imply political interference.
PM Shinzo Abe said the Government would take his remarks seriously and discuss further course of action.
In context:
Japanese imperialism in the 21st century
Abdication under Imperial House Law

The 1947 Imperial House Law is a statute in Japanese law that governs Imperial Household matters. Abdication was relatively common until 1817, when Emperor Kokaku resigned. However, no provision for abdication were included as changes following Japan's surrender at the end of World-War II.
Role

The duties of the Emperor
The Emperor of Japan is the head of Imperial Family and the ceremonial head of Japan's system of constitutional monarchy.
He is the highest authority of Shinto religion as he is considered to be the descendant of the Sun-Goddess Amaterasu.
Under Japan's 1947 post-war Constitution, he became "symbol of the State and of the unity of the people," a figurehead with no political authority.
Love World news?


Stay updated with the latest happenings.
Biographical Information

Japan's Emperor Akihito
The 82- year old Akihito is the 125th emperor of his line according to Japan's traditional order of succession.
He has been on the Chrysanthemum Throne for 28 years, since the death of his father, Hirohito.
Akihito was 55 when he succeeded his father. His oldest son, Naruhito, is 56.
He was diagnosed with prostate cancer in 2003 and underwent coronary-bypass surgery in 2012.
08 Aug 2016

Japan's Emperor indicates his desire to abdicate in a video
Concerns

Political and legal implications
Analysts said that Akihito issued an oblique statement stating his distaste for regency because he does not want to do only half the job.
Right wing nationalists who support PM Abe's Government do not want any changes in the current laws as it would destabilize the current imperial system.
A survey by Kyodo news agency found more than 85% people wanted legalization of abdication.
Options available

Change in existing laws required
According to experts, the first option is that the PM might continue as before, without abdication or a regent.
In the second scenario he may opt for regency.
Third, he might move to alter those articles of Imperial Household Law that govern abdication or retirement.
And fourth, the Government might use this as an opportunity to amend the Imperial Household Law in its entirety.
Love World news?


Stay updated with the latest happenings.
The succession controversy

Under Japan's Imperial Law, only a male heir can inherit the throne. A debate about female claims to the throne took place in 2006 when the emperor had no grandsons, but was postponed after a boy was born to the wife of Akihito's second son.
24 Jan 2017

Japanese Emperor Akihito may be abdicated
According to Japanese law, no Emperor is allowed to abdicate his throne, but Emperor Akihito is 83 years old and has had heart surgery and prostate cancer treatment.
On Monday, a panel of experts is expected to adopt a special law which will allow Emperor Akihito to retire by the end of 2018.
His titles and duties remain to be settled.