World
China to launch world's fastest train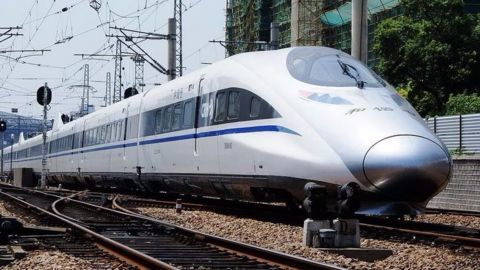 China is set to launch world's fastest high speed train next month.
The train with a maximum operating speed of 380 kmph will run on the Zhengzhou-Xuzhou high speed rail track.
It clocked a highest speed of 400 kmph during testing phase.
This will reduce travel time between central China's Zhengzhou and East China's Xuzhou, from 2 hr 33 mins to around 80 minutes.
In context:
China's High Speed Rail (HSR) technology
High Speed Rails

What are high speed rails?
While the definition of high speed rails varies, the generally accepted one includes, the new rails operating at 250 km per hour and above.
High speed rail programs were successful in many of the European countries like Germany, France; and Japan and China.
Apart from the reduced travel time, high speed rails help reduce pollution, increase passenger comfort, lower road congestion etc.
HSR network

China's high speed rail network expansion
With about 19,000 kms of rail track, China has the world's largest high speed rail (HSR) network, as of end of 2015.
China had first launched high speed trains in 2008.
Its HSR network currently consists of 4 North-South and 4 East-West railway corridors.
The country looks to expand the HSR network length to 30,000 kms by 2020 and 38,000 kms by 2025.
Love World news?


Stay updated with the latest happenings.
23 Apr 2016

China eyes India for building HSR
After building a vast HSR network in its country, China looks to explore possibilities in neighbouring countries like Singapore, Malaysia, and India.
While Japan beat China to build 505 kms of the Mumbai-Ahmedabad track, China is seeking to partner with India on other possible routes.
China has been conducting feasibility studies for the 2,200 kms Chennai-Delhi and 1,200 kms Delhi-Mumbai high speed corridors.
Chennai-Delhi could be second largest

The proposed Chennai-Delhi high speed rail corridor could possibly be the second largest one in world after Beijing-Guangzhou line which is 2,298 kms long.
09 Aug 2016

China to launch world's fastest train