World
Vietnam gives India the go-ahead for oil exploration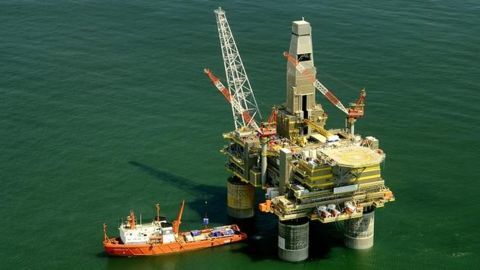 Despite Beijing objecting, Vietnam has given India the green signal for oil exploration in the South China Sea (SCS).
Vietnam holding its ground is attributed to the fact that the oil exploration will be conducted in their Exclusive Economic Zone (EEZ).
PM Narendra Modi will be traveling to Vietnam en route to the G-20; the first visit by an Indian PM in 15 years.
In context:
The India-Vietnam strategic partnership
About

South China Sea Dispute
The South China Sea (SCS) dispute concerns the overlapping and conflicting territorial and sovereignty claims of Vietnam, Indonesia, Brunei, Malaysia, Philippines and China vis-a-vis ocean areas and the strategically located Paracel and Spratly islands.
These islands are located amongst the world's busiest shipping lanes with immense natural resources.
The SCS is widely considered a rich source of marine wealth, hydrocarbons and fisheries.
Projects

ONGC's presence in the South China Sea
ONGC's overseas arm, OVL, entered Vietnam in 1988 for exploration of a block that today produces natural gas.
In 2014, OVL, in partnership with Vietnam's PetroVietnam, was granted licenses to jointly explore two blocks in the SCS; China claims territorial and sovereign rights to this part of SCS.
Vietnam offered these blocks to India to counter growing Chinese influence in this region.
Love World news?


Stay updated with the latest happenings.
What is the Exclusive Economic Zone?

According to Part V of the U.N. Convention on the Law of the Sea that regulates EEZ, States are permitted to treat up to 200 nautical miles around their territory as an "exclusive economic zone" allowing them exclusive authority to exploit natural resources.
Feb 2016

India-Vietnam solidify partnership
In February 2016, Vietnam invited India to exploit natural resources in SCS in areas over which Vietnam claims exclusive sovereignty and jurisdiction, the EEZ.
The Vietnamese Ambassador to India reiterated the need to protect their rights in their sovereign waters by cooperation with India and other countries.
This statement came around the time China's warplanes were spotted near the disputed Paracel Islands in SCS.
Details

India to build satellite in Vietnam
Keeping in sync with the growing strategic relationship between Vietnam and India, India announced plans to install a 'satellite tracking system' in Vietnam earlier this year.
The satellite equipped with imaging technology will be used for scientific, agriculture and environmental related applications.
Hanoi will be allowed access to images from the Indian satellites that can also observe the SCS as well as China.
11 Aug 2016

Vietnam gives India the go-ahead for oil exploration
Love World news?


Stay updated with the latest happenings.
Details

China's stance on India-Vietnam bonhomie
China advised India to refrain from "unnecessary entanglement" in the SCS dispute to avoid marring bilateral ties.
It further advised India to focus on economic issues in context of declining trade with China and avoid competing geopolitically.
Exports to China have dropped significantly this year as increasing tensions between both countries have made it harder for Indian businessmen to explore the Chinese markets.