UN calls for transparent, credible investigation into Yemen bus attack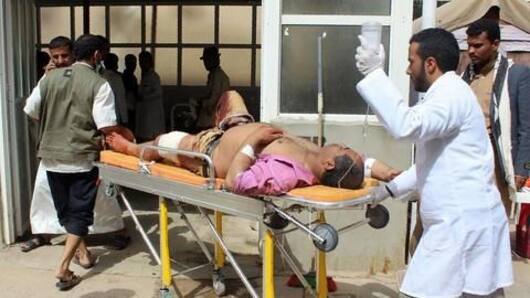 The UN Security Council yesterday called for a credible and transparent investigation into the death of at least 29 children in a Saudi-led coalition attack on a bus in Yemen on Thursday.
British Ambassador Karen Pierce, who holds the Council presidency, following a closed-door meeting, said if an investigation held is not credible, the Council will obviously want to review that.
Here's more.
In context
UN calls for investigation of Yemen bus attack
Attack
The 'legitimate military action' by the Saudi coalition
Since 2015, Saudi Arabia has been leading a military campaign to restore the internationally recognized government to power and push back the Houthis, an Islamic religious-political-armed movement, who still hold Yemen's capital Sana'a.
On Thursday, the Saudi coalition-led airstrike hit a bus in Dahyan, Saada (north-western Yemen).
The attack was called a "legitimate military action" by the coalition targeting Houthi rebels in the area.
Investigation
UN to decide how Saudi investigation can be taken forward
The Saudi-led coalition earlier announced that it had ordered an investigation into the air strike on Thursday that also wounded at least 48 others in the northern rebel stronghold of Saada.
The Council did not order a separate investigation but will now consult with the UN and others as to how the investigation can best be taken forward, said Pierce.
Love World news?
Stay updated with the latest happenings.
Notify Me
Independent investigation
UN Secretary-General Antonio Guterres demands independent investigation
Ahead of the Council meeting, the Netherlands stressed that the investigation must be independent, suggesting that the coalition's decision to open up a probe was insufficient.
"We have seen the images of children who died," Dutch Deputy Ambassador Lise Gregoire-van Haaren said.
"What is essential is to have a credible and independent investigation," he added.
UN Secretary-General Antonio Guterres also demanded an independent investigation.
Council members support Saudi-coalition but concerned about rising death toll
Kuwait, a non-permanent Council member, is part of the Saudi-led coalition fighting Houthi rebels. The US, France, and Britain, three of the five permanent Council members have supported the coalition in its military campaign, but have expressed concern over the heavy toll on civilians.