World
370 kgs of Cocaine found in Coca Cola's factory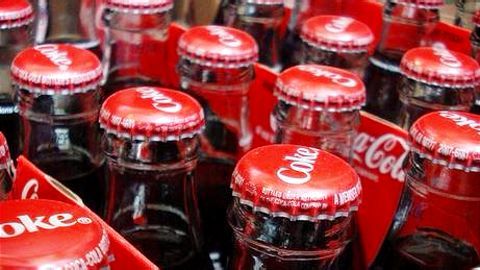 On opening a delivery of fruit juice concentrate from Costa Rica, the workers of a Coca Cola factory in southern France found a huge stash of cocaine.
The cocaine was worth an estimated €50 million (£42 million) and weighed almost 370kg (815 pounds).
Sacks holding the drugs were concealed in a shipping container containing orange juice that arrived in the factory on 26 August.
In context:
Cocaine trade gripping Europe
02 Jun 2016

Cocaine trade and the route it takes
EU Drug Trafficking Report by the European Monitoring Centre for Drugs and Drug Addiction (EMCDDA) and Europol revealed that Colombia, Brazil and Venezuela were the "key departure points" for Europe-bound cocaine.
The cocaine was then smuggled out in "vessels, private yachts or by air, among other methods."
The report also revealed that Holland's Rotterdam Belgium's Antwerp were the key entry points in Europe.
Cocaine smuggling through waters

Maritime trafficking of cocaine on the rise
In the recent years, the trafficking of cocaine through shipping containers has largely increased.
The increased global maritime traffic make moving cocaine easier.
The drug is slipped into legitimate containers by bribing port officials by breaking and replacing the security seal at the point of origin.
Concealing cocaine with perishable goods also guarantees that the drugs move through controls more swiftly.
Love World news?


Stay updated with the latest happenings.
When the smuggling gets tough, the smugglers get creative

The modes of trafficking cocaine involve the smugglers to be consistently creative to survive, using new smuggling routines such as "ingesting liquid rather than powder cocaine and concealing drugs in breast implants."
31 Aug 2016

3 Canadians caught in Australia, shipping cocaine from England
Australian authorities seized cocaine worth $23 million from 3 people on board a cruise ship.
2 women and a man on board of MS Sea Princess were captured with 200 pounds (the most ever seized from cruise or airline passengers) of cocaine.
The trio had started from Southhampton in the U.K. and gone to Sydney, Lagace and Roberce and many other ports before being held in Sydney.
01 Sep 2016

370 kgs of Cocaine found in Coca Cola's factory
Cocaine in coke

Coke's link with its namesake drug
Aptly-named Coke, sources claim that up until 1903, Coke contained 9 milligrams of cocaine in one glass.
While Coca-Cola has officially denied the presence of cocaine (past or present) historical data suggests otherwise.
In 1904, the company replaced the "ingredient" with a cocaine-free coca leaf extract.
Coke still contains the non-narcotic coca leaf extract imported these leaves from Peru and Bolivia till 1980s.
Love World news?


Stay updated with the latest happenings.
07 Feb 2017

Massive cocaine haul on Australian yacht
In a covert operation, Australian enforcement agencies swooped in on a yacht headed to Australia last week and seized a whooping 1.4 tonnes of cocaine.
5 Australian men have been charged with 'conspiracy to import drugs' and face life imprisonment.
Australian market is attractive to drug-peddlers as drug prices are much higher than US.
The haul would've led to almost 1.5 million street deals.