World
Afghan forces end siege after suicide attacks hit Kabul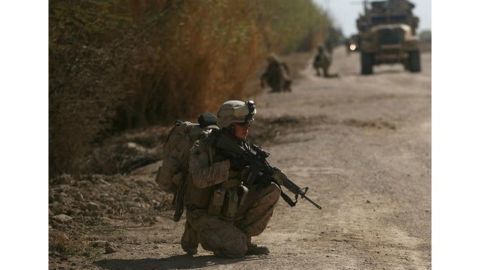 Afghan security forces ended a 10-hour siege on Tuesday, killing three attackers and rescuing 42 civilians, at the office of NGO CARE International in Kabul.
The attack took place just hours after twin suicide-bombings by Taliban which killed atleast 24 people and wounded 91 others, near the Defence Ministry.
There was no immediate claim of responsibility from any terrorist group for the third attack.
In context:
Coordinated terror attacks rock Kabul
Information

Taliban's presence in Afghanistan
The Taliban's history in Afghanistan dates back to the 1990s when Afghanistan was still dominated by Russia.
After a civil war, Taliban took control of Afghanistan in 1996.
Sheltering Osama bin Laden and other al-Qaeda terrorists, led to its crushing by a US-led invasion in 2001.
Since then, Taliban fighters have been slowly building an insurgency against US-led forces and the US-supported Afghanistan government.
Insurgency

Escalating Taliban attacks
The Taliban has escalated attacks throughout Afghanistan, underscoring the worsening security situation since NATO forces ended their combat mission in 2014.
Afghan forces are seeking to deter a potential Taliban take-over of Lashkar Gah, the capital of Helmand.
The Taliban have also closed in on Kunduz, which they briefly seized last year in their biggest military victory since the 2001 US invasion.
Love World news?


Stay updated with the latest happenings.
Details

Twin bombings hit Afghanistan's Defense Ministry
A pair of coordinated Taliban bombings targeted the Afghan Defense Ministry in a crowded neighborhood of Kabul on Monday.
It killed at least 24 people and wounded 91 others, including senior security officials.
Taliban spokesman Zabihullah Mujahid said on Twitter that the Defence Ministry was the target of the first attack, while police were targeted in the second, which was a suicide bombing.
Details

Third attack targets Kabul charity
According to reports, an attack on the international charity, CARE, in Kabul, has left at least one civilian dead and one injured.
The humanitarian agency came under a car bomb attack, followed by at least 2 terrorists breaking into its offices.
One suicide attacker was killed while the second had entered a gunfight with security forces, later to be killed after an 10-hour stand-off.
06 Sep 2016

Afghan forces end siege after suicide attacks hit Kabul
Highlighting the fragile security situation

The attacks bring into focus the precarious security situation in Kabul, just one month before the Brussels conference is to take place. International donors are expected to pledge continued financial support to Afghanistan.