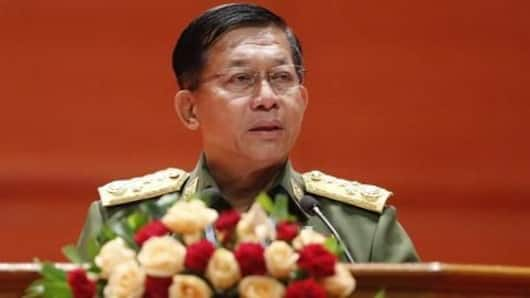 #RohingyaCrisis: UN has 'no right to interfere', says Myanmar army-chief
Myanmar army chief said the United Nations had no right to interfere in the sovereignty of the country, a week after a UN probe suggested that he be prosecuted for "genocide" against the Rohingya minority.
The defiant response is his first public reaction since a UN fact-finding mission urged the Security Council to refer Myanmar's top military brass to the International Criminal Court (ICC).
Talks to meddle in internal affairs cause misunderstanding: Army chief
No country, organization or group has the "right to interfere in and make decisions over sovereignty of a country," Myanmar's Senior General Min Aung Hlaing told his troops yesterday, according to the military-run newspaper Myawady. "Talks to meddle in internal affairs (cause) misunderstanding," he said.
Military troops and Rakhine mobs committed murder, rape, arson: UN
UN investigators, in their report, went into horrific detail about the atrocities allegedly committed by army troops last year in their "clearance operations" against the Rohingya, which forced over 700,000 Rohingyas to flee into Bangladesh.
Troops, often aided by ethnic Rakhine mobs, committed murder, rape, arson, and torture, employing unfathomable levels of violence and with total disregard for human life, they concluded.
Love World news?
Stay updated with the latest happenings.
Yes, notify Me
Myanmar military, Aung San Suu Kyi have denied all wrongdoing
The military has denied nearly all wrongdoing, justifying its crackdown as a legitimate means of rooting out Rohingya militants.
Myanmar's civilian government, led by Aung Suu Kyi, had already rejected the report as "one-sided" and "flawed". It also dismissed a separate decision at the criminal court that found it had jurisdiction over the crisis.
Notably, her government shares power with the still mighty army.