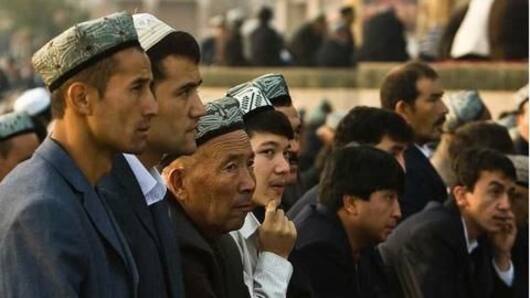 Reveal fate of 1mn minority Muslims detained: Amnesty to China
China must come clean about the fate of an estimated 1mn minority Muslims swept up in a "massive crackdown" in Xinjiang, Amnesty International said in a new report yesterday.
China has ramped up restrictions on Muslim minorities to combat what it calls Islamic extremism and separatist elements in Xinjiang.
But critics say the drive risks fueling resentment towards China and further inflaming separatist sentiment.
Report says Muslim minorities punished for sporting beards, burqas
In a new report, which included testimony from people held in the camps, Amnesty International said China had rolled out "an intensifying government campaign of mass internment, intrusive surveillance, political indoctrination, and forced cultural assimilation".
Uighurs and other Muslim minorities are punished for violating regulations banning beards and burqas, and for the possession of unauthorized Korans, it added.
Nearly 1mn detained, many for sharing Islamic holiday greetings online
About a million people are detained in internment camps, a United Nations panel on racial discrimination reported earlier, many for minor offenses like contacting family members outside China or sharing Islamic holiday greetings on social media.
"They're desperate to know what has happened to their loved ones and it's time the Chinese authorities give them answers," said Nicholas Bequelin, Amnesty International's East Asia director.
Love World news?
Stay updated with the latest happenings.
Yes, notify Me
US diplomat Mike Pompeo condemned China's racial discrimination
Amnesty's report interviewed several former detainees who said they were put in shackles, tortured, and made to sing political songs and learn about the Communist Party.
The London-based NGO also called on other governments to hold Beijing to account for "the nightmare" unfolding in Xinjiang.
Last week, US Secretary of State Mike Pompeo denounced "awful abuses" of Uighur Muslim detained in re-education camps.
Authorities have removed Islamic symbols, restricted religious content online
China has, however, denied Amnesty reports and says authorities are detaining people in a network of extrajudicial camps for political and cultural indoctrination.
This contradicts the removal of Islamic symbols such as crescents from areas with significant Muslim population by the authorities in a bid to "block extremism".
Earlier this month, draft regulations also suggested Beijing was considering restrictions on religious content online.
Muslims are not the only ones suffering in China
Recently, China's top leaders also called for religious practices to be brought in line with "traditional" Chinese values and culture, sparking concern among rights groups.
Not just Muslims, Christians have also been targeted in crackdowns, with a prominent Beijing "underground" church shuttered by authorities earlier this month, while churches in Central Henan province have seen their crosses being torn down and followers harassed.