Senators ask Trump to order probe into missing Saudi journalist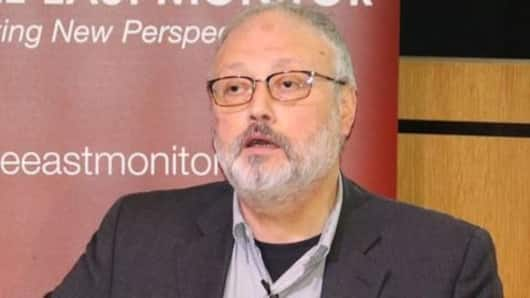 As many as 22 top US Senators have asked US President Donald Trump to order an investigation into Saudi journalist Jamal Khashoggi's whereabouts and impose sanctions against anyone found responsible for his mysterious disappearance.
Khashoggi, a US resident, vanished on October 2 after entering the Saudi consulate in Istanbul.
Turkish authorities suspect he was murdered by Saudis, which the latter termed as "baseless" claims.
In context
US Senators trigger probe into Saudi journalist's disappearance
Appeal
In letter to Trump, lawmakers triggered 2016 Global Magnitsky Act
In a letter to Trump, the lawmakers triggered the 2016 Global Magnitsky Act, which gives the President 120 days to decide whether to impose sanctions on any foreign person he determines sponsored or was involved in the disappearance of the 59-year-old journalist.
Khashoggi, former editor-in-chief of Al Arab Channel, was an outspoken critic of the Saudi Government and the Crown Prince Mohammed bin Salman.
Letter
What was the Senators' view about Khashoggi's disappearance?
The Senators said the disappearance of Washington Post columnist Khashoggi suggested he could be a victim of a gross violation of internationally recognized human rights.
The violations include "torture or cruel, inhuman, or degrading treatment or punishment.., causing the disappearance of persons by abduction and clandestine detention of those persons, and other flagrant denials of right to life, liberty, or the security of person."
Love World news?
Stay updated with the latest happenings.
Notify Me
Details
'Make determination on imposition of sanctions pursuant to Magnitsky Act'
"We request that you (Trump) make a determination on imposition of sanctions pursuant to Global Magnitsky Human Rights Accountability Act with respect to any foreign person responsible for such a violation related to Mr. Khashoggi," lawmakers said.
"Our expectation is that in making your determination you will consider any relevant information, including with respect to highest-ranking officials in Government of Saudi Arabia," they added.
Who penned the letter?
The letter was penned by top Republican and Democrat on the Senate Foreign Relations Committee, Chairman Senator Bob Corker and Ranking Member Senator Bob Menendez, along with the leaders of the Appropriations Subcommittee for the State Department, Senator Lindsey Graham and Democrat Senator Patrick Leahy.
Action
Have demanded answers from Saudi in journalist's missing, says Trump
Trump yesterday said he had taken up the case of the journalist and demanded all answers into his disappearance of from the Saudi authorities.
Earlier in the day, Trump expressed deep disappointment over the situation.
"We're very disappointed to see what is going on. Don't like it...And are going to get to the bottom of it," Trump told reporters in response to a question.
Trump, Melania had received letter from Khashoggi's fiancee
The President said he and the First Lady Melania had received a letter from Khashoggi's fiancée Hatice Cengiz, who accompanied him in his last visit to the Kingdom's Istanbul consulate before he disappeared. "We want to bring her to the White House," he said.
Details
US admin spoke to Crown Prince about the missing journalist
White House National Security Advisor John Bolton and WH Senior Advisor Jared Kushner spoke to Saudi Arabian Crown Prince Mohammed Salman about the missing journalist.
Secretary of State Mike Pompeo then had a follow-up call with Crown Prince.
"In both calls, they asked for more details and for the Saudi government to be transparent in investigation process," White House Press Secretary Sarah Sanders said.