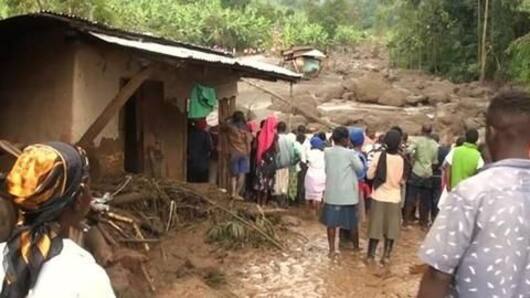 Uganda: Massive landslide kills at least 34; many missing
At least 34 people have been killed after a river in eastern Uganda burst its banks, sending thick sludge and rocks barreling into homes, disaster officials said today.
Rescue teams were picking through the rubble, looking for survivors and victims of the disaster which took place yesterday in the town of Bukalasi in the Bududa district.
An unknown number of people were still missing.
Have to wait for data of missing people: Red Cross
"I can confirm 34 people are dead. We have to wait for our assessment to be completed before we can say how many are missing," said Uganda Red Cross spokeswoman Irene Nakasiita.
Yesterday she shared photos of the scene of what she described as a "massive landslide" on WhatsApp, including images of dismembered corpses caked in mud laid out by the river.
Red cross sending relief supplies to affected area
"Our search and rescue team is still on the ground evacuating people," Nakasiita said.
She said the Red Cross was sending relief supplies to the area, such as tarpaulins, blankets, and water purification tablets.
Nathan Tumuhamye, director of an organization that helps communities recover from natural disasters and conflict, said that "four to five villages" and possibly a primary school had been affected.
Love World news?
Stay updated with the latest happenings.
Yes, notify me
President of Uganda urges residents to cooperate with authorities
I have received the sad news of landslides wreaking havoc in Bududa District, killing a yet-to-specified number of residents. The government has dispatched rescue teams to the affected areas. I urge residents to cooperate with authorities to mitigate possible further danger.

— Yoweri K Museveni (@KagutaMuseveni) October 11, 2018
Earlier, 100 people were killed in landslide in 2010
Bududa district is in the foothills of Mount Elgon, which lies on the border between Uganda and Kenya and is a high-risk area for landslides.
At least 100 people were reported killed in a landslide in Bududa in March 2010, and in 2012 landslides destroyed three villages.
Government efforts to move vulnerable people to neighboring districts have faced resistance from residents.
Tumuhamye says early warning systems were established, but in vain
According to Tumuhamye, some early warning systems for floods and landslides have been established in Bududa area but without the capacity to respond to the warnings the systems have not helped residents escape disasters.