Missing Saudi journalist Khashoggi's Apple watch recorded his death: Report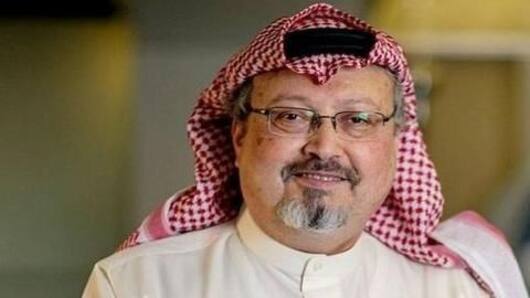 A Turkish newspaper reported on Saturday morning that missing Saudi journalist Jamal Khashoggi may have recorded his own death on his Apple Watch.
Khashoggi has been missing since October 2 after he entered the Saudi consulate in Istanbul. According to the Sabah newspaper, the 'interrogation, torture and killing' were recorded and sent to his iPhone and iCloud, both.
Here are more details.
In context
Did Saudi journalist's Apple Watch record his death?
Apple watch
Khashoggi's watch recorded audio, sent to his phone
Reportedly, the recording was found on Khashoggi's phone which he left with his fiancee.
According to Sabah, assailants saw the watch on Khashoggi's wrist and tried to unlock it. The report said Khashoggi's fingerprints were used to unlock the gadget.
It, further, added the assailants managed to delete some files successfully.
However, Apple does not list "fingerprint verification as one of the Watch's capabilities."
Defense
Meanwhile, Saudi has denied claims of his death
Just as the Khashoggi's disappearance has snowballed into a global controversy, Saudi has denied accusations of his death.
Eleven days after he went missing, Minister Prince Abdulaziz bin Saud bin Naif bin Abdulaziz has dismissed the death news. However, Turkish sources have maintained the journalist was killed inside the consulate.
Saudi has said he left the building, but his fiancee, who was waiting outside, said she didn't see him re-emerge.
Love World news?
Stay updated with the latest happenings.
Notify Me
Turkey's stand
Turkey wants Saudi to give evidence Khashoggi left the building
Meanwhile, Turkey has asked Saudi to show evidence that Khashoggi left the building. According to CNN, investigating officers have evidence that he was murdered inside the consulate.
Separately, Sabah reported investigating officers are going through all calls made and received in the consulate on October 2.
Efforts to trace body of Khashoggi, who is a columnist for The Washington Post, are on.
Aftermath
Media sponsors pull out of high-profile summit
After the disappearance of Khashoggi, a staunch critic of the Saudi government and crown prince Mohammed bin Salman, trouble has been mounting for the Gulf nation.
Reportedly, media houses like Financial Times, Bloomberg, CNN and CNBC have withdrawn sponsorship from a high-profile summit scheduled to happen in Riyadh, later this month.
UN's Antonio Guterres has also demanded answers and said such incidents have become 'new normal'.
We need to know what happened: Guterres
"We need to know exactly what has happened and we need to know exactly who is responsible and, of course, when we see the multiplication of this kind of situation I think we need to find ways in which accountability is also demanded," Guterres said.