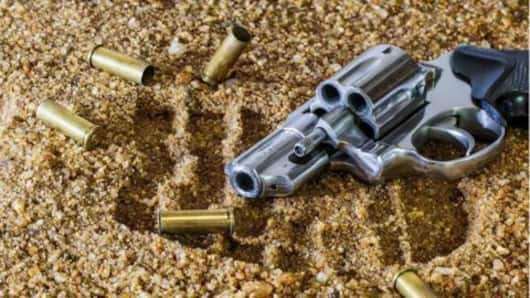 4 dead in Washington shooting, shooter remains at large
A gunman entered a Macy's store in the Cascade mall in Burlington, Washington at around 7 pm on 23rd September, 2016.
According to the death toll, 4 women lost their lives in the shooting.
An initial description of the shooter released by the police described the perpetrator as a Hispanic man wearing a black t-shirt, armed with a rifle.
Unfolding of Events
The four women who died in the shooting were inside of Macy's department store, according to Sgt. Mark Francis, spokesman for the state patrol.
According to a witness, a movie was interrupted by the theatre attendant who asked everyone to leave instantly.
Survivors inside of the mall were taken to a church 'His Place' via bus.
The search for the shooter
The Federal Bureau of Investigation (FBI) in Seattle stated that it was helping local law enforcement with their investigations.
The police continued their search for the man spotted in the mall surveillance camera up to 11.30 pm.
According to the FBI, no information pointed towards a second attack in Washington.
The US Bureau of Alcohol, Tobacco, Firearms and Explosives (ATF) were also present.
Love World news?
Stay updated with the latest happenings.
Yes, notify Me
Advised to stay close
Jay Inslee, Governor of Washington, urging residents to follow instructions, said, "Follow detour warnings, stay close to friends and loved ones as we await more information and hopefully, news of the suspect's capture."
The Minnesota mall stabbing - Similar attack!
On 17th September, 2016, the Crossroads Center shopping mall in Minnesota witnessed a stabbing attack.
This attack left 10 people injured and the attacker was shot dead inside the mall.
According to reports, the attacker made references to Allah; he was a 22-year-old member of the St. Cloud's Somali-American community.
ISIS claimed responsibility of the attack through their media agency, Amaq.
Rate of Crime
Detroit, Memphis and Oakland are three cities with the highest rate of violent crimes in the United States of America.
Washington mall shooting: Suspect in custody
Washington State Police captured the suspected involved in the fatal shooting of 5 people at a mall in Washington state.
Authorities said the arrested 20 year old Arcan Cetin after an exhausting overnight manhunt.
So far police have not found a possible motive for the attack.
However, officials took to Twitter to announce the arrest and said more information would be available shortly.
Strip mall in Houston, Texas attacked by gunman
USA observed another shooting - this time in a mall in Houston. On Monday morning, a gunman opened fire at a strip mall in southwest Houston.
According to the Houston Fire Department, 6 people were taken to the hospital.
The Houston Police Department states that the perpetrator was shot by them in the active shooting situation.
The motive of the gunman remains unknown.