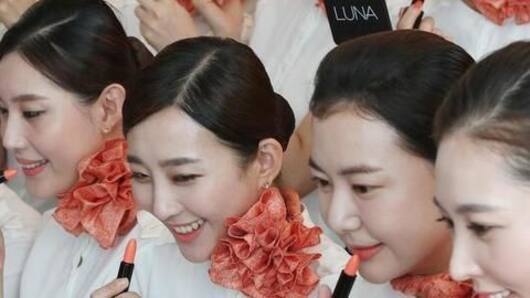 Sick of country's demanding beauty-standards, South Korean women destroy cosmetics
For long now, South Korean women have been restricted to conformist beauty rules. The eyes have to be big, skin pale, nose bridge high, lips cherry, and a 9:1 body face ratio (meaning the body has to be nine times longer than the face).
But now they are done. They no longer want to spend hours getting ready and therefore are destroying their cosmetics.
Welcome 'Escape the Corset' movement, which is ruling South Korea
Likening living up to the exacting beauty standards to corsets, which women wore long ago, this movement is called 'Escape the Corset'.
Participants of the challenge are destroying costly make-up and posting pictures on social media.
This is a part of a larger push against patriarchy in the country, where women have been demanding equality and action against sexual assault.
South Korea gave the world BB/CC creams, the industry's booming
It is pertinent to note that South Korea's cosmetic industry is booming. The country gave BB/CC creams and promoted skincare regime including snail slime and donkey milk.
The brands are globally recognized, and from 2012 to 2017, the market grew 7% annually.
According to Euromonitor, the South Korean cosmetic industry is worth $12.5 billion.
The industry is enormous, and so is the pressure.
Love World news?
Stay updated with the latest happenings.
Yes, notify me
To keep up with pressure, women go an extra mile
The unrealistic beauty standards call for women to do 10 steps daily to attain the 'perfect' look. That one-third of young women have gone under the knife, speaks volumes about the culture.
Fortunately, all of this is in the past and women are embracing themselves minus the cosmetics.
About the movement, The Guardian reported that many women see beauty regime as unpaid labor.
Women no longer have energy to look pretty
Cha Ji-won, whom the daily interviewed, said she spent 100,000 won ($88) on cosmetics every month.
"There's only so much mental energy a person has each day, and I used to spend so much of it worrying about being 'pretty'," she said.
With her cosmetics gone, and her long hair cut, Cha has found herself again. Just like many others.
The easily breakable cosmetics have no power in them
Another woman who dumped her eye-shadow, foundation, and nail polish said she was frightened to go outside without wearing them. "They can't have any power over me when it's so easy to break them," she said.
Yet another woman said she couldn't believe she applied these products on her face.
With their new-found freedom, women are dedicating time to read, and do other activities.
Rarely is destruction beautiful, this definitely is
How the movement is affecting the nation
"The movement doesn't only aim to challenge the sexual objectification of women, but also change the status of women as subordinate to men. As a result, we're seeing a change the way women dress," said Lee Na-Young, a women's studies professor at Chung-Ang University in Seoul.
The movement is a step in the right direction
In a country where a TV anchor was once ridiculed because she wore glasses during a show, this movement is perhaps the first step in the right direction.
It is too soon to comment on whether or not this movement will dent the cosmetic industry, but local media reports claim companies are rethinking their strategies and no longer want to prey on women's insecurities.