World
Hurricane Matthew to hit Florida, President declares state of emergency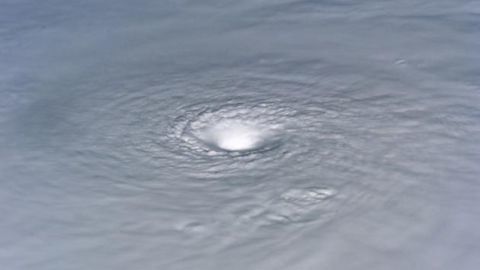 Hurricane Matthew, after battering Cuba, Haiti and Bahamas, is currently heading towards South Carolina and Florida's Atlantic-coast.
Millions of residents have been urged to evacuate the southeastern coast; Florida Governor warned residents to be prepared for a 'direct hit'.
President Obama declared a state of emergency in Florida.
Reportedly, Hurricane Matthew, which was downgraded to Category-3, could intensify over warm waters while approaching Florida.
In context:
Hurricane Matthew's destructive path in the US
Saffir-Simpson Hurricane Wind Scale

Saffir-Simpson-Hurricane-Wind-Scale is used to categorize hurricanes according to sustained wind speed. Hurricanes are rated on a scale of 1 - 5 according to the estimated property damage. Hurricanes over Category 3 are considered 'major' hurricanes because of the massive damage they leave in their wake.
October 4, 2016

Hurricane Matthew
Hurricane Matthew (Matthew), is the most potent Caribbean cyclone in the region since 'Hurricane Felix' of 2007.
On October 4, 2016 Cuba and Haiti were lashed by Matthew with winds (upto 230-kmph) and torrential rains.
According to officials, there was massive damage to homes, crops, livestock and there was severe flooding.
65 people died in Haiti and 4 in the Dominican Republic.
Love World news?


Stay updated with the latest happenings.
Haiti, worst affected

According to officials, the true extent of the damage was not known as phone communications had collapsed. Haiti was particularly vulnerable as it was prone to mudslides due to extensive deforestation. According to the UN, 350,000 Haitians need immediate assistance.
October 5, 2016

Matthew slams into Bahamas
After pummelling Haiti and Cuba, Matthew made landfall in the Bahamas on Wednesday, October 5.
Matthew was a Category 4 hurricane until Tuesday but was downgraded to Category 3 yesterday.
Matthew battered Nassau, the capital of Bahamas and Freeport city; the conditions are expected to worsen further.
Air and sea traffic had been halted and authorities urged people to move to higher ground.
07 Oct 2016

Hurricane Matthew to hit Florida, President declares state of emergency
Landfall in Florida on Thursday night

Matthew's landfall in Florida is forecast for Thursday night, between West Palm Beach and Cape Canaveral. Winds of 240 kmph are anticipated at landfall. The U.S. National Hurricane Center believes there's a small chance Matthew could reach Category 5 level.
Love World news?


Stay updated with the latest happenings.
Measures taken

Florida prepares for Hurricane Matthew
Nearly 1.5 million residents of Florida are in areas designated for mandatory or voluntary evacuations.
Florida Governor, Rick Scott has activated a total of 2500 National Guard members to help prepare for the storm.
Coastal communities on South Carolina were being evacuated; almost 250,000 people may need to relocate.
Residents have been stocking up on food supplies and government offices and schools are closed.
Hurricane Wilma, 2005

Eleven years ago, Hurricane Wilma was the last hurricane to make landfall in Florida. Wilma wiped out power in 98% of Florida and damage and destruction of property was estimated at $20.6 billion.
08 Oct 2016

Hurricane Matthew moves to US; 877 dead in Haiti
As reports started coming from the remote areas of Haiti that had previously been cut off by Hurricane Matthew, it was revealed that the death toll had surged to 877.
The hurricane had then moved to US's Florida where mass evacuations had been triggered along the "Florida coast through Georgia and into South Carolina and North Carolina."
Obama requested people to heed safety instructions.
09 Oct 2016

Matthew US death toll hits 15, downgraded to post-tropical cyclone
The death toll from hurricane Matthew has reached 15 and storm has now been downgraded to a post-cyclone tropical storm.
So far the storm has killed 5 people in North Carolina, 4 people in Georgia and 6 people in Florida; four more have been reported missing in North Carolina.
Officials said the storm is now moving off shore and would reduce in intensity.
12 Oct 2016

North Carolina struggles with floods after Hurricane Matthew
North Carolina has received a record breaking 30 cm of rain in the aftermath of Hurricane Matthew, leaving several areas under water and forcing mass evacuations.
The death toll in the US from Hurricane Matthew is at 35 of which at least 17 deaths were recorded in North Carolina.
State officials have warned of worse floods as rivers in the region began overflowing.