World
Air strike in Yemen kills more than 140 people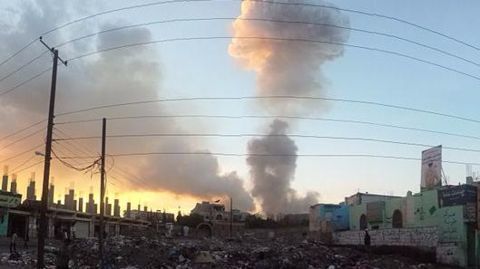 Air Strikes carried out by Saudi-led coalition on a funeral hall in Yemen's capital city of Sanaa killed over 140 people, leaving more than 525 people injured.
The attack targeted the funeral of the father of a top rebel Houthi official.
Along with hundreds of civilians, the ceremony was attended by top political and military officials aligned with the Houthi rebels.
In context:
Air Strikes in Yemen's Sanaa
Conflict summary

Yemen civil war and Saudi intervention
The ongoing Yemeni conflict pits the government led by President Abed Rabbo Mansour Hadi against Houthi rebels and loyalists of ousted former President Ali Abdullah Saleh.
Yemen spiralled into civil war in 2014 which further escalated after Houthis seized capital Sanaa, forcing President Hadi out of the city.
This led to an intervention by Saudi-led coalition, in an attempt to restore Hadi to power.
Who are Houthis?

Houthi rebels, officially known as Ansar Allah (Partisans of God), take their name from the group's leader late Hussein Badr al-Din al-Houth. They belong to the Zaidi sect, a branch of Shia Islam. They make up 1/3rd of Yemen's population.
Love World news?


Stay updated with the latest happenings.
16 Sep 2016

Civilians deaths due to Saudi-led air raids
According to a survey by 'Yemen Data Project', as revealed by the 'Guardian', more than 1/3rd of all air strikes carried out by Saudi-led coalition, in Yemen, have hit civilian sites.
United Nations puts the death toll resulting from the war since March 2015, at over 10,000.
3,799 of them were civilians. Further, more than 6,000 people were injured.
09 Oct 2016

Air strike in Yemen kills more than 140 people
UN condemns the deadliest attack

The air strike on Sanaa's funeral hall with a large number of casualties, was one of the deadliest single assaults during the 20-month old civil war. The UN Humanitarian Coordinator Jamie McGoldrick, in a statement, condemned the "horrific attack".
09 Oct 2016

Arab coalition to probe the Sanaa attack
The Saudi-led coalition initially denied its role in the Sanaa attack saying "its troops have clear instructions not to target populated areas".
The coalition also said that "it will immediately investigate" the reports along with experts from United States.
This statement came after the US said it was "deeply disturbed' and would review its support for the Arab coalition in the Yemen conflict.
Love World news?


Stay updated with the latest happenings.
10 Oct 2016

Massive protests break out in Yemen after horrific attack
Thousands took to the streets in Yemen to protest the worst air-strike in the country by the Saudi-led coalition; the strike killed 140 and injured over 500 people.
The widely condemned attack was labelled an "act of genocide" by the Houthi rebels' spokesperson.
Houthi leader, Abdul-Malek al-Houthi, said on television, that air strikes had a "green light" from Washington and were using US weapons.
10 Oct 2016

US Navy ship escapes attack by Yemeni rebels
A US Navy-ship came under attack from Yemen's coastal areas controlled by Houthi rebels.
Two missiles were launched towards the ship but impacted the water and missed it.
This is the first time an American vessel was fired upon since civil war began in Yemen.
This appears to be a fallout from the deadly air-strike in Yemen which Houthi rebels believe had US backing.
24 Oct 2016

UN's call for ceasefire falls on deaf ears in Yemen
Pro-government Arab coalition on Sunday, went a step further with air strikes in Iran-backed rebels in Yemen.
Warring parties ignored the United Nations' call for renewing the 72-hour ceasefire that had taken place before midnight on 19th October, 2016.
UN's special envoy to Yemen, Ismail Ould Cheikh Ahmed appealed for renewing the ceasefire while Yemeni Foreign Minister Abdulmalek-al-Mekhlafi called the same "useless."