World
Thai Monarch Bhumibol Adulyadej dies after 70-year reign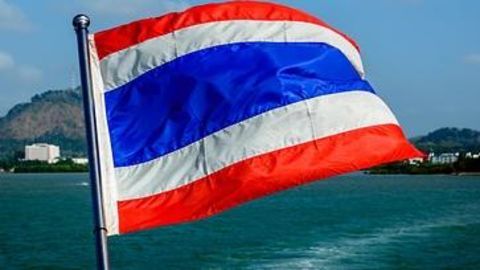 King Bhumibol Adulyadej of Thailand died on 13th October, 2016, inciting a period of deep mourning in a country that revered him.
The Royal Palace announced the news in an official statement which was read on the state TV.
The 88-year-old king was admitted at the Siriraj Hospital on 3rd October, 2016 and had been fighting kidney problems.
In context:
Thai King - World's longest serving monarch
Profile

About Bhumibol Adulyadej
King Bhumibol's reign in Thailand began on 9th June, 1946, shortly after World War II ended.
He was accidentally pushed into monarchy at the age of 18 after the death of his older brother Ananda Mahidol.
Born in Cambridge, Massachusetts and educated in Switzerland, Bhumibol spoke English and French fluently.
His hobbies included composing music, playing the clarinet and saxophone, photography, painting and writing.
Longest serving monarch

The world's longest-serving ruler, King Bhumibol served for 70 years and 126 days. His death makes Britain's

Queen Elizabeth

II, who has ruled for 64 years, the longest-reigning living monarch.
Love World news?


Stay updated with the latest happenings.
Reign

Bhumibol's rule in Thailand
In his early years, whenever Bhumibol tried to assert himself, he was suppressed by the military.
Due to this, he focused increasingly on development, an area unchallenged by the military.
Under his reign, Thailand witnessed a transition from an agricultural economy to that of an industrial and commercial one.
There was also an expansion in the middle class.
13 Oct 2016

Thai Monarch Bhumibol Adulyadej dies after 70-year reign
Reactions

Global reactions to King Bhumibol's death
President Obama called the king a "tireless champion of his country's development who demonstrated unflagging devotion to improving the standard of living of Thai people."
Theresa May, British Prime Minister said, "His Majesty guided the Kingdom of Thailand with dignity, dedication and vision throughout his life. He will be greatly missed."
PM Modi described Bhumibol as "one of the tallest leaders of our times."
Bhumibol Adulyadej's successor

King Bhumibol's heir apparent is his son, Crown Prince Vajiralongkorn. Prince Vajiralongkorn is 64 years old, and not very well acquainted with the Thai people. Having spent most of his time in

Germany

, the Prince has failed to attain widespread popularity.
Love World news?


Stay updated with the latest happenings.
17 Oct 2016

Thai King's death: Speculation after power void
Speculation is rife over who would fill the void created by the death of the Thai King, after delays over appointing his son, Crown Prince Vajiralongkorn as the rightful successor.
After a special meeting of the National Legislative Assembly with Prime Minister Prayut Chan-ocha, the new King was not appointed, as per the tradition.
Crown Prince Vajiralonkorn returned to Switzerland to continue studying.
20 Oct 2016

Spike in royal defamation cases after Thai king's death
Thai police have seen an increase in number of royal defamation cases after the death of the Thai King.
A majority of the cases were found on social media and police said 12 new complaints were being investigated, with 4 suspects in custody and warrants issued for 8 others.
Insulting the royal family carries a sentence of 15 years in Thailand.
02 Dec 2016

Crown Prince Maha Vajiralongkorn becomes new Thai king
Crown Prince Maha Vajiralongkorn accepted the Thai parliament's invitation to succeed his father King Bhumibol Adulyadej, becoming Thailand's new king; he will be known as King Maha Vajiralongkorn Bodindradebayavarangkun.
Senior diplomats said "This royal succession highlights a desire for stability and continuity in Thailand."
The death of King Bhumibol Adulyadej left a power void in Thailand, sparking speculation of political instability.
13 Dec 2016

New Thai King pardons prisoners
As his first act of mercy, Thailand's new King Maha Vajiralongkorn issued a mass pardon through a decree; the decree did not state how many prisoners would be pardoned.
First-time women offenders, inmates who have served 1/3 of their sentences, and disabled or seriously ill prisoners were among those pardoned.
The Royal Gazette said the move was meant "to show the king's mercy."