World
Car bomb kills 20 near Syria - Turkey border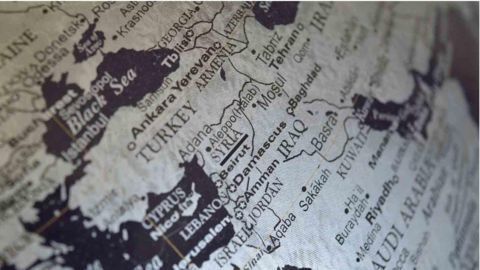 The Syria-Turkey border which has been under attack, witnessed another car bombing today.
At a checkpoint manned by FSA rebels, the blast killed nearly 20, most of whom were believed to be Syrian rebel fighters.
Local news reports said that the blast was carried out by Islamic-State terrorists.
The blast occurred a few kilometers from the Bab-al-Salam crossing on Syria-Turkey border.
In context:
Syria-Turkey borders under relentless attack
Operation Euphrates Shield

Since the Syrian

civil war

began in 2011, 'Operation Euphrates Shield' initiated on August 24 marked the first time Turkish forces crossed the Syrian border with tanks, soldiers and artillery backed by US-coalition's airstrikes and rebel ground forces to take on the Islamic State's forces.
Who

Free Syrian Army rebels
The Turkish-backed group of Free Syrian Army's (FSA) rebels have been fighting alongside other Turkish factions in "Operation Euphrates Shield" to eliminate the remaining presence of Islamic State militants from Syrian's northern enclave.
The border crossing of Syria - Turkey near the city of Azaz is a stronghold of Turkish-backed FSA Syrian rebel fighters.
This border-crossing has been frequently targeted by Islamic State militants.
Love World news?


Stay updated with the latest happenings.
Details

Recent blasts targeting FSA
Little over a week ago, 25 people were killed in a suicide blast on Syria's Atmeh border crossing with Turkey.
Twenty others were also injured, most of those who died or were injured were mostly Syrian-rebels.
The blast occurred when rebels were switching their shifts at a position on Atmeh border crossing,
Islamic State's media wing AMAQ claimed credit for this attack via Twitter.
14 Oct 2016

Car bomb kills 20 near Syria - Turkey border
Details

What unfolded post-attack?
A video recording of the border crossing moments after the blast showed chaos near a charred SUV.
Out of 25 injured, 8 were critically wounded and were being transferred to nearby hospitals
The blast was so powerful that bodies were torn and mangled with metal parts from smashed/charred cars
Several FSA factions cordoned off border areas after rumours of more blasts.
Likely suspects

Who was behind the car blast?
Though no organization has yet claimed the attack, Islamic-State is suspected to be behind the blasts.
Turkey has been witnessing increased attacks from the Islamic State since it initiated 'Operation Euphrates Shield' two months ago to clear out the Salafist terror group from its border regions.
Just a week ago, another suicide blast on the Syrian-Turkish border had killed 29 Syrian rebels.
Love World news?


Stay updated with the latest happenings.
Syria's unending war

The Islamic State is engaged in fighting the Syrian government, foreign-backed rebels as well as other U.S. backed fighters. Since anti-government protests began in Syria in 2011, over 300,000 people have already been killed in this conflict.