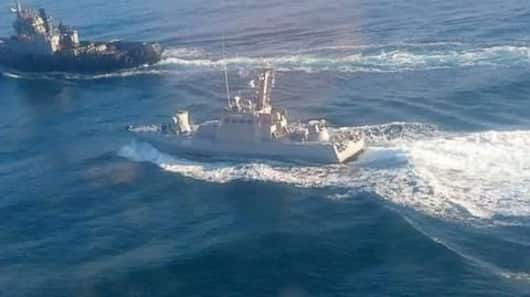 Ukraine accuses Russia of firing on, seizing its three ships
Ukraine's navy accused Russia of opening fire on and seizing three of its vessels yesterday in a strait near Moscow-annexed Crimea, sparking alarm among Kiev's Western allies and raising fears of a possible military escalation.
The incident occurred in the Kerch Strait, a narrow waterway that gives access to the Sea of Azov that is used by Ukraine and Russia.
Here is more.
Russian border guard vessel fired on Ukraine's ships, damaged one
Ukraine's navy said seizing took place as three of its ships, two small warships, and a tugboat were heading through the strait for the port of Mariupol.
It said a Russian border guard vessel rammed the tugboat in "openly aggressive actions" and then fired on one of its ships. Two Ukrainian soldiers were reportedly injured.
The ramming damaged the tugboat, it added.
Russia accused Kiev of illegally entering its waters, provoking conflict
The navy also said the Kerch Strait was blocked by a tanker, and that Russian military aircraft were flying over the area.
Russia, in turn, has accused Kiev (Ukraine's capital) of illegally entering its waters and deliberately provoking conflict.
Moscow claims the waters off Crimea after annexing the peninsula in 2014.
Russian politicians accused Ukraine of acting at the behest of its Western allies.
Love World news?
Stay updated with the latest happenings.
Yes, notify me
Won't allow military provocations in our territorial waters: Russia
Crimean leader Sergei Aksyonov wrote on Facebook that he was sure the Western masters of the Kiev regime are behind this act of provocation.
Pyotr Tolstoy, the deputy speaker of the Russian parliament, warned on Facebook that "the Ukrainian puppet authorities... are risking unleashing a large military conflict."
"One thing is clear: Russia won't allow military provocations in its territorial waters," he said.
Ukraine says it had notified Russia about ships' route
Russia's FSB security service, which oversees border guard service, said the Ukrainian ships "illegally entered a temporarily closed area of Russian waters" and were carrying out "provocative actions", adding, "Their aim is clear: to create conflict situation in this region."
Ukraine, in turn, said it gave Russia advance warning of its ships' route, which they're obliged to take to reach the Sea of Azov.
Ukraine recently increased number of ships in Sea of Azov
The latest incident comes after the Ukrainian navy in September complained of "acts of provocation" by Russian border guards against its ships taking the same route. Ukraine has recently increased the number of its navy ships and border guard patrols in the Sea of Azov.
Naval buildup because of Russia's lengthy commercial shipping checks: Kiev
Kiev says its naval build-up is due to Russia stepping up controls in the area this year and carrying out lengthy checks on commercial shipping.
Kiev and the West have accused Moscow of deliberately blocking ships from accessing Mariupol, which has vital access to heavy industry in the region.
Mariupol is close to the region of eastern Ukraine controlled by Russian-backed separatists.