Pakistan PM Imran Khan lays foundation stone for Kartarpur Corridor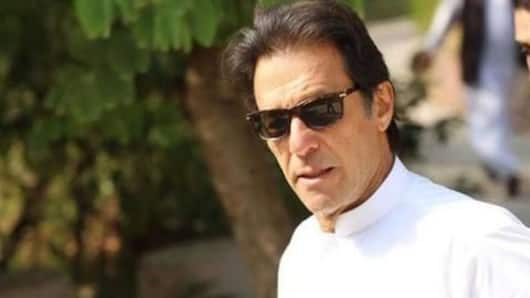 Pakistan PM Imran Khan has laid the foundation stone for the much-awaited corridor linking Gurdwara Darbar Sahib in Pakistan's Kartarpur to Dera Baba Nanak shrine in India's Gurdaspur district.
The Corridor will facilitate the visa-free travel of Indian Sikh pilgrims to Gurdwara Darbar Sahib in Kartarpur.
Kartarpur holds significance for Sikhs as it's the final resting place of Sikhism founder Guru Nanak Dev.
In context
Pakistan PM lays foundation stone for Kartarpur Corridor
Gurdwara Kartarpur Sahib: Why is it so important for Sikhs?
Kartarpur Sahib in Pakistan is located across the river Ravi, about 4km from the Dera Baba Nanak shrine. It was established by the Sikh Guru in 1522. The first gurdwara, Gurdwara Kartarpur Sahib, was built where Guru Nanak Dev is said to have died.
Comment
It shows that Pakistan takes care of minorities: Foreign Office
The corridor is expected to be completed within six months.
Before leaving for Kartarpur, Pakistan Foreign Office Spokesperson Muhammad Faisal said in Islamabad today that the opening of the Karatarpur border was the historic step for the welfare of minorities.
"It shows that Pakistan takes care of minorities," he said.
Faisal also credited Khan for the initiative to open the border for Sikh pilgrims.
Love World news?
Stay updated with the latest happenings.
Notify Me
Tentative time
Construction of corridor likely to be completed before November 2019
Faisal said the corridor will facilitate Sikh pilgrims to visit their holiest site in Pakistan.
Further, the construction of the corridor will be completed before the 550th birth anniversary of Guru Nanak in November next year, he added.
Pakistan PM, senior politicians of Pakistan's Punjab province and a host of top officials attended the event at Narowal, around 120km from Lahore.
Guests
Navjot Singh Sidhu and Union Ministers attend the event
Cricketer-turned-politician Navjot Singh Sidhu arrived in Pakistan yesterday for the event.
The Indian Government has sent Union ministers Harsimrat Kaur Badal and Hardeep Singh Puri to represent India at the event.
The foundation stone of the corridor on the Indian side, from Dera Baba Nanak in Punjab's Gurdaspur to the international border, was laid on Monday by Vice President M Venkaiah Naidu.
Sidhu's visit
Kartarpur issue came into focus when Sidhu had visited Pakistan
India had proposed the corridor to Pakistan around 20 years back.
The issue of Kartarpur Sahib came into focus after Sidhu visited Pakistan in August to attend the oath-taking ceremony of cricketer-turned-politician Imran Khan as Pakistan's Prime Minister.
After his return, Sidhu said that Pakistan Army Chief General Qamar Javed Bajwa had told him that Pakistan may open a corridor to Kartarpur Sahib.
Hopes
Can corridor project ease India-Pakistan tension? PM Modi drops hints
Last week, Pakistan and India announced that they would develop the corridor on their respective side of the border to help Indian pilgrims visit Gurdwara Darbar Sahib in Kartarpur.
Prime Minister Narendra Modi recently likened the decision by the two countries to the fall of the Berlin Wall, indicating that the corridor project may ease simmering tension between the two countries.
Bilateral ties
Ties between India-Pakistan strained after 2016 terror attacks
India-Pakistan ties nose-dived in recent years with no bilateral talks taking place. The ties between the two countries had strained after the terror attacks by Pakistan-based groups in 2016.
Pakistan had also invited External Affairs Minister Sushma Swaraj, who thanked her Pakistani counterpart Shah Mahmood Qureshi for the invite, but said she was unable to travel to Kartarpur Sahib due to prior commitments.