World
CNN: Clinton the winner of final Presidential debate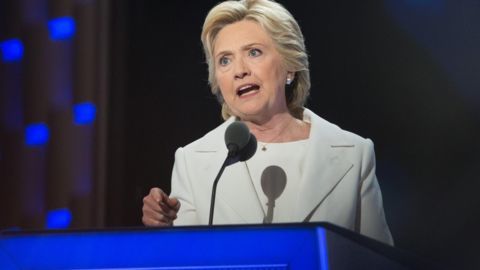 According to a CNN/ORC poll of watchers of the final Presidential debate, Hillary Clinton defeated Donald Trump by a 13-point margin.
This makes Clinton the winner of all 3 Presidential debates.
52% of the watchers said Clinton did the best job, whereas 39% thought the same for Trump.
54% of the watchers also said that this debate would do nothing to change their vote.
In context:
The 2016 US Presidential Elections: Final debate
Background

The first and second Presidential debates
The first debate for the 2016 Presidential elections took place on 26th September, 2016 at Hofstra University, New York.
The moderator of the debate was Lester Holt from NBC.
The second 2016 Presidential elections debate took place at Washington University in St. Louis, Missouri.
Anderson Cooper of CNN and Martha Raddatz of ABC were moderators for the second debate.
Information

The third Presidential debate
The third presidential debate took place on 19th October, 2016 at University of Nevada, Las Vegas.
The format of this debate was similar to the first presidential debate with the debate lasting for a total of 90 minutes divided into six 15-minute segments.
Each segment was assigned a topic that was chosen by the moderator, Chris Wallace of Fox News.
Love World news?


Stay updated with the latest happenings.
Topics of the third Presidential debate

The topics chosen by Chris Wallace were debt and entitlements, immigration, the economy, Supreme Court, foreign hot spots and fitness to be president.
Results

Trump on election results
On Wednesday night, Donald Trump declined commenting on whether he would be accepting of the election results, if they weren't in his favour.
Stating that he would decide the same only on 8th November (election day) he said, "I'll tell you at the time, I'll keep you in suspense," to Chris Wallace.
Clinton called his answer "horrifying" and denounced him for "talking down democracy."
National Debt

Clinton and Trump on national debt
When Chris Wallace pointed out to the Presidential nominees that their plans are likely to increase national debt, Donald Trump rejected the claim saying that he could "create tremendous jobs and construct and an economic machine to power growth."
Hillary Clinton said that she would "not add a penny to the national debt."
Immigration

The topic of border security
Trump claimed that the heroin addiction in USA is directly related to insufficient border security. "We have to have strong borders," he stated.
Hillary Clinton said while border security was included in her immigration plan, she didn't want to witness "the deportation force that Donald talks about."
She also called Trump a hypocrite, alleging that he "used undocumented labour to build the Trump Tower."
Love World news?


Stay updated with the latest happenings.
Sexual assault allegations

Addressing the array of sexual assault allegations on him, Trump said, "I didn't even apologize to my wife, who's sitting right here, because I didn't do anything. I don't know these people. Totally false."
20 Oct 2016

CNN: Clinton the winner of final Presidential debate
22 Oct 2016

Trump reluctant to honour election's outcome
Against a backdrop of a shaky performance in the final presidential debate, Donald Trump has stated that he would "totally accept the results of this great and historic presidential election" only if he is the winner.
The comments came amid heavy rhetoric by Trump that the elections are rigged against him.
He made the comments at a rally in Delaware.