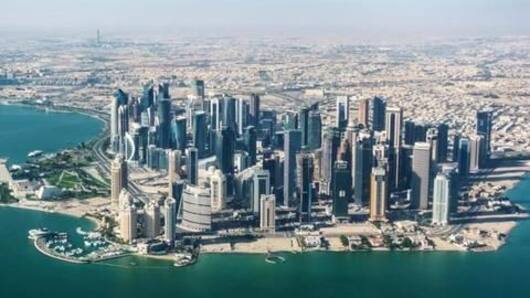 Qatar to quit OPEC in January 2019
On Monday, Qatar announced that it would withdraw from the Organization of the Petroleum Exporting Countries (OPEC), effective January 2019.
The decision has been communicated to OPEC, said Saad al-Kaabi, the country's energy minister.
Qatar, which has been part of OPEC since 1961, has said that it will now focus on the development of its natural gas industry.
Here's more.
OPEC accounts for almost 44% of the world's oil production
OPEC was founded in 1960 and, before Qatar's withdrawal, comprised 15 countries - Algeria, Angola, Ecuador, Equatorial Guinea, Gabon, Iran Iraq, Kuwait, Libya, Nigeria, Qatar, Republic of the Congo, Saudi Arabia, UAE, and Venezuela. In 2016, OPEC accounted for 44% of the world's oil production.
Love World news?
Stay updated with the latest happenings.
Yes, notify Me
Qatar's decision comes ahead of an OPEC meeting
Qatar's announcement came ahead of an OPEC meeting to be held in Vienna later this week.
The meeting, to be held on December 6-7, will be attended by Qatar, but the country's stand, as it is understood, remains final.
Qatar is one of OPEC's smallest producers, but the world's largest liquefied natural gas (LNG) exporters, and accounts for almost 30% of global LNG production.
Qatar's contribution to OPEC's oil production was marginal
While Qatar is the world's largest LNG producer, its contribution to OPEC was quite marginal. Among the 15 members, Qatar was the 11th-largest producer, and accounted for less than 2% of OPEC's oil production in October, as reported by Bloomberg.
Qatar's decision, reportedly, is not driven by diplomatic tensions
Qatar is the first gulf-country to quit OPEC.
However, as reported by Al Jazeera, Qatar's decision is purely an economic one, and not based on the diplomatic blockade imposed on it by Saudi Arabia, UAE, Egypt, and Bahrain.
According to energy minister al-Kaabi, Qatar will now look to increase its LNG production from 77 million tons per year to 110 million tons per year.
The implications of Qatar's withdrawal from OPEC
Given Qatar's negligible contribution to OPEC, it's unlikely that its withdrawal will have any significant impact.
However, LNG production is a different issue.
Most of the LNG produced by Qatar comes from two oil and gas fields, one of which is shared with Iran.
Although the Gulf's ongoing diplomatic prices is unlikely to affect LNG prices in the short-term, analysts feel that a prolonged diplomatic stalemate could send LNG prices soaring.
44% of India's LNG imports come from Qatar
According to a government notification dated July 2018, Qatar supplies 8.5 million metric tons (MMT) of LNG to India per annum, accounting for 44% of India's LNG imports.