Trump writes to Imran Khan, wants to talk about Taliban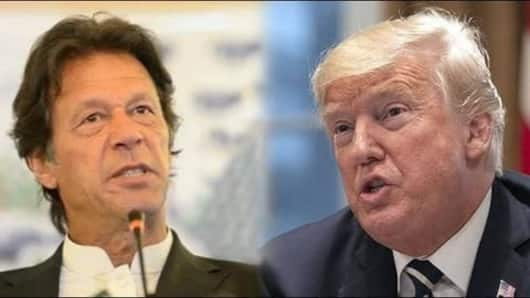 US President Donald Trump has written to Prime Minister Imran Khan, seeking Pakistan's help with stuttering Afghan peace talks and support in bringing the Taliban to the negotiating table to end the 17-year brutal war in its neighboring country, Pakistani officials said yesterday.
The development came weeks after Trump said Pakistan does not do "a damn thing" for the US.
Here's more.
In context
US, Pakistan to talk about Taliban soon?
The letter
Trump acknowledged Afghan war had cost both US, Pakistan
Trump had earlier alleged that Islamabad had helped al-Qaeda chief Osama bin Laden hide near Abbottabad.
In the letter, Trump "stated that his most important regional priority was achieving a negotiated settlement of the Afghan war. In this regard, he has sought Pakistan's support and facilitation," Pakistan's Foreign Office said.
Trump "also acknowledged that the war had cost both US and Pakistan," it added.
Comment
Pakistan stressed peace, stability in Afghanistan was a shared responsibility
The US President also emphasized that both the countries "should explore opportunities to work together and renew partnership."
"Since Pakistan has always advocated a political settlement to end the war in Afghanistan, US decision is welcomed," the Foreign Office said.
Pakistan also reiterated its commitment to play a facilitation role in good faith, stressing that peace and stability in Afghanistan was a shared responsibility.
Love World news?
Stay updated with the latest happenings.
Notify Me
Trump requested 'Pakistan's full support for Afghan peace process'
Meanwhile, in Washington, a spokesperson of the US National Security Council said that Trump in his letter to Khan requested "Pakistan's full support for the US-led Afghan peace process and Special Representative for Afghanistan Reconciliation Ambassador Zalmay Khalilzad's upcoming trip to the region."
In-depth
President recognizes that Pakistan can 'deny the Taliban sanctuary'
"The President recognizes that Pakistan has the ability to deny the Taliban sanctuary on its territory... The letter also makes clear that Pakistan's assistance with the Afghan peace process is fundamental to building an enduring US-Pakistan partnership," the USNSC spokesperson further said.
Last month, the Pentagon said that the US has suspended $1.66 billion in security assistance to Pakistan after President Trump's directive.
Strained ties
Trump administration had earlier canceled military-aid to Islamabad over terrorism
Ties between the US, Pakistan strained after Trump hit out at Pakistan last year for providing safe havens to "agents of chaos" that kill Americans in Afghanistan and warned Islamabad that it has "much to lose" by harboring terrorists.
In September, Trump administration also canceled $300mn military aid to Islamabad for not doing enough against terror groups like the Taliban active on its soil.
The war
Over 2,400 American soldiers died in Afghanistan war since 2001
The Trump administration, in the recent months, has intensified its efforts to seek a negotiated settlement of America's longest war in Afghanistan, where the US has lost over 2,400 soldiers since late 2001 when it invaded the country after the 9/11 terror attacks.
The Taliban are fighting to flush out international forces and re-establish their regime in Afghanistan after their ouster in 2001.