Six dead, dozens hurt in stampede at Italian nightclub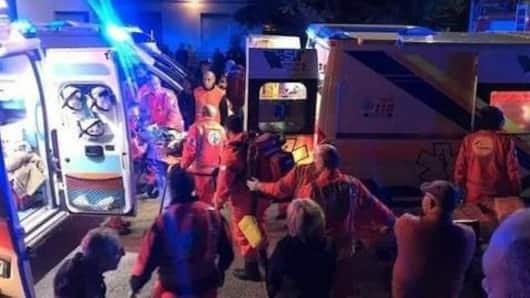 Six people died and dozens were injured in a stampede when panic broke out during a rap concert at an Italian nightclub this morning, the fire service said.
Media reports say the suspected use of a pepper spray-like substance sparked chaos at the venue in the town of Corinaldo, near Ancona in central Italy.
The deceased include five people under the age of 18.
In context
Italian nightclub stampede: 6 dead, many left injured
Details
5 minors killed in stampede, 12 injured in serious condition
"The cause may have been the dispersal of a stinging substance, the young people fled and trampled over each other. Sadly, six people died and dozens are injured," the fire service said.
Victims include three girls and two boys under 18 years apart from an adult woman who accompanied her daughter to the concert.
Twelve of the injured were in a serious condition.
It was a concert by Italian rapper Sfera Ebbasta
Witnesses said people were crushed to death after falling from a small wall as they attempted to flee. Around 1,000 people, many of them young, were in the Lanterna Azzurra (Blue Lantern) club for a performance by Italian rapper Sfera Ebbasta.
Love World news?
Stay updated with the latest happenings.
Notify Me
What happened?
Emergency exits were blocked, even bouncers didn't help?
The incident took place around 1:00 am (0000 GMT).
"We were dancing and waiting for the concert to start when we smelt this pungent odor," a 16-year-old boy who was taken to the hospital told the media.
He further said, "We ran to one of the emergency exits but we found it blocked, the bouncers told us to go back."
Previous incident
In 2017, 1500 were injured during Champions League football match
In 2017, a woman died and 1,500 were injured in a crush during the broadcast of a Champions League football match final in Turin, North Italy when rumors of a bombing sparked panic.
Following the stampede, eight people were arrested on suspicion of causing the scramble by dispersing an irritating substance in a bid to steal from the crowd.