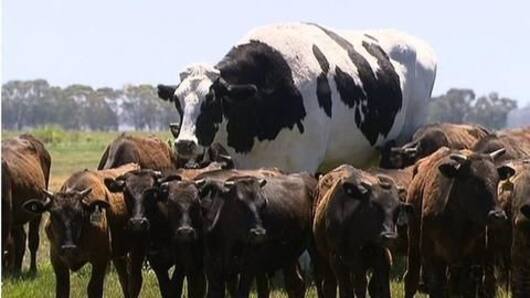 Read the real story behind the giant Australian cow 'Knickers'
A few days back, a giant cow named 'Knickers' in Australia garnered huge attention after its picture circulated on social media.
However, the animal is not what you think is.
For starters, the giant cow, who is 6 feet 4 inches tall and weighs 1.4 tons, is actually a steer (a neutered bull).
And, it has a sad story.
Here's more on this.
Knickers is 7-years-old, belongs to Holstein Friesian breed
Knickers is a seven-years-old steer who belongs to the Holstein Friesian breed, which is a dairy breed. However, as he has been neutered he cannot be used for dairy breeding.
Holstein Steers are actually expected to grow to tremendous sizes as they mature.
This means Knickers is just a regular Hostein Friesian breed, who got naturally lucky and not genetically freaky.
Love World news?
Stay updated with the latest happenings.
Yes, notify Me
Knickers isn't the only tall cow in the world
Also, Knickers isn't the tallest cow ever. According to the Guinness World Records, the tallest cow was 15-year-old Blossom (from the US), who died in 2015. She was 6 foot 2.8 inches tall.
Also, in the picture of Knickers which went viral, it's standing in the middle of a cattle-herd called Wagyu, a different cattle-breed that gets as tall as 4 feet 7 inches.
Knickers escaped slaughterhouse because he became too large for processing
According to specialists, if a Holstein steer is allowed to live longer, it can grow even larger than bulls due to hormone differences.
However, most are usually slaughtered at 15 months when they hit about 1,300 to 1,400 pounds.
But Mr. Pearson, Knickers' owner, couldn't sell him to a slaughterhouse because he became too large to be put through the processing facility.
Pearson fears Knickers increasing weight will lead to problems someday
Mr. Pearson also said that he has grown attached to Knickers and so have the rest of his cattle.
He said the other animals have taken to Knickers.
Although Knickers have shown no signs of health problems, Mr. Pearson said he wouldn't be surprised if carrying all that weight catches up to him eventually at some point.
Hope Knickers don't see the day soon.