World
Anti-government protests escalate in Venezuela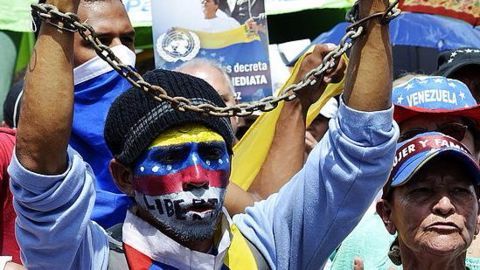 Protests against President Nicolas Maduro escalated in Venezuela, causing unrest leading to dozens of injuries and arrests.
At one protest in Miranda state, a policeman was shot dead and two others were injured. According to the opposition leader Henrique Capriles at least 120 people were wounded and 147 arrested in protests across the nation.
The protests ensued after referendum to remove Maduro was suspended.
In context:
Venezuela : A nation in crisis
Inflation

The Economic turmoil
Venezuela, home to world's largest oil reserves, ran into economic crisis because of fall in the price of crude oil.
Low oil prices meant less foreign currency for the government to import goods.
The country's inflation is heading towards 100% and people are faced with shortage of food and medicine.
The government and opposition blame each other for current state of economy.
Unpopular government

People's dissatisfaction with Maduro
After the death of Hugo Chavez, the former president and country's biggest socialist leader, in 2013, Nicolas Maduro took over as the President of Venezuela.
They both belong to PSUV (United Socialist Party) which had been in power since 1999.
Lack of oil revenues forced the Maduro government to cut back on the social programs, which left people unhappy and dissatisfied.
Love World news?


Stay updated with the latest happenings.
Demands

Opposition's call for Maduro's removal
Blaming the president for ongoing economic crisis, the opposition has called for Maduro's removal and has demanded fresh elections.
It is the opposition's argument that the government should have saved money when oil prices were high for crisis times like now.
Opposition attributed the inflation, food shortages, power cuts, etc. to Maduro government's mismanagement and its socialist policies.
Recall referendum

As per Venezuela's constitution, a 'recall referendum' can be invoked to remove a President, once the President serves half of his term. During the referendum, opposition needs to garner more votes than the number of votes won by Maduro during his 2013 Presidential election.
Process

Path to referendum
There are three stages leading up to the recall referendum.
In the first stage, signatures of 1% of voters in each of Venezuela's 24 states need to be obtained.
In stage 2, a 3-day time period is given to the opposition to obtain signatures of 20% of voters in each of 24 states. This triggers the referendum.
The third stage is the referendum itself.
20 Oct 2016

Suspension of push for referendum process
While the opposition completed stage one of the referendum process and was scheduled to begin the stage two on 26 Oct, Venezuelan electoral authorities suspended the signature drive.
The electoral council said that courts in several states had reported fraud in the campaign's first stage.
Opposition was outraged by this announcement and said it would escalate the crisis.
Love World news?


Stay updated with the latest happenings.
Resolution by the National Assembly

After the suspension of referendum, the opposition-controlled National Assembly approved a resolution urging people to stand up in defence of constitution. It asked for international help and called on Venezuelan armed forces to disobey any unconstitutional government order. This was declared void by SC.
28 Oct 2016

Anti-government protests escalate in Venezuela