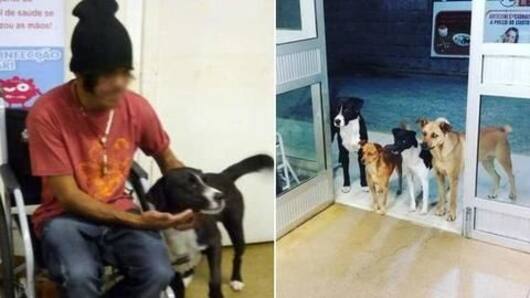 Paw-inspiring: Faithful stray dogs wait for homeless owner outside hospital
A wise man once said, "A dog will teach you unconditional love. If you have that in your life, things won't be too bad."
The aforementioned statement was proven right when a homeless man in Brazil, who was admitted to a hospital for a health issue, had his four canine companions waiting for him outside the hospital, patiently.
Here's more about this paw-inspiring story.
Man admitted himself to hospital for ongoing condition
Credits:
On Sunday, Cesar, admitted himself to the Regional Alto Vale hospital in Rio du Sul at 3 am for a persistent health condition he was suffering from.
Soon, the staff members realized that Cesar wasn't alone.
Despite being a vagabond, Cesar had a beautiful family of four affectionate dogs, who were waiting for him outside, with their eyes fixed on him and tails wagging.
Healthcare worker invites dogs for a feast with Cesar
It didn't take long for a healthcare worker, Cris Mamprim, to realize that Cesar may not have material possession but is blessed by the abundant friendship and love of the dogs.
The dogs were eager but stood patiently at the front door.
When Cesar squared away with the medications he needed, Mamprim decided to invite the dogs for a feast along with Cesar.
Love World news?
Stay updated with the latest happenings.
Yes, notify Me
Cesar had stopped eating to feed the dogs
Mamprim also came to know that Cesar, somebody who depends on help to overcome hunger and pain, had stopped eating just to feed the dogs.
She also said that the dogs looked healthy, chubby and were well-fed.
After half an hour of treatment, Cesar left the hospital with his gang.
Mamprim took a picture of the dogs and shared it on Facebook.
'He has the best companions with him'
If only everyone were like this: Mamprim
Mamprim's Facebook post read, "He has the best companions with him. I do not know what his life is like, or why he's on the street, but I admire the respect and love he has for his little animals. If only everyone were like this." If only!
The adorable gesture by the canines was so heart-warming, we can't stop wiping our tears.