World
China's J-20 stealth fighter debuts next week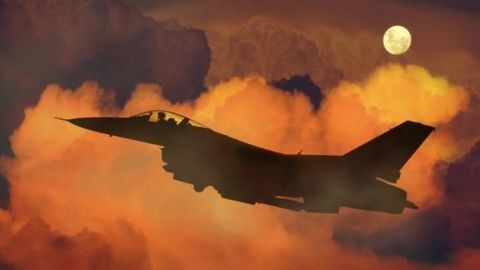 The 5th generation J-20 fighter jet will be officially revealed at the Chinese airshow next week.
The J-20 will give a flight demonstration during the seven day airshow to be held in the southern city of Zhuhai that is held biennially.
Spokesperson of the Chinese Air Force, Shen Jinke said that "the J-20 would help China safeguard sovereignty and national security".
In context:
All eyes on the upcoming Chinese airshow
Overview

China beefing up airforce
Beijing's air force capabilities are being beefed up to enable China to adopt a more aggressive stance in the region particularly in the disputed South and East China sea.
China has ramped up research into advanced new military equipment, including anti-satellite missiles, aircraft carriers and submarines.
At the upcoming airshow in Zhuhai, the latest offerings in aviation, electronics, space and land-armament will be displayed.
The 11th China International Aviation and Aerospace Exhibition gets underway next week in Zhuhai, China.
It's the largest arms exhibition in China and latest fighter jets, drones, missiles, tanks and artillery guns will be exhibited.
The Pakistani, Russian and British Air Force will also be participating in the airshow.
Military enthusiasts are especially looking forward to seeing China's J-20 fifth-generation stealth fighter jet.
Love World news?


Stay updated with the latest happenings.
30 Oct 2016

China's J-20 stealth fighter debuts next week
About

The J-20 stealth fighter
The J-20's unveiling will be the first public appearance by a stealth fighter jet that has been indigenously manufactured in China.
In 2011, China conducted the J-20 maiden flight and since then 10 prototypes have been produced.
After the United States's F-35 Lightning II and the F-22 Raptor stealth warplanes, the J-20 is reportedly the third stealth fighter jet to enter service.
About

Chinese fighter jets vs. Western jets
The Chinese J-20 is considered equivalent to the West's "fifth-generation" jet fighter.
Currently, only the US has fifth-generation jets in combat service, the F-22 and the F-35.
Russia and Japan are believed to have flyable prototypes of fifth-generation jets whereas many other countries are in the process of developing such aircraft.
At the 2014 airshow, Beijing had showed off another fifth-generation prototype, Shenyang J-31.
J-20 making the news

Last month, the J-20 made news in India after being spotted at a Tibetan airbase: this was indicative of its operability at very high-altitude-airbases. At present India doesn't have a stealth-fighter but is expected to sign a deal to jointly develop one with Russia.