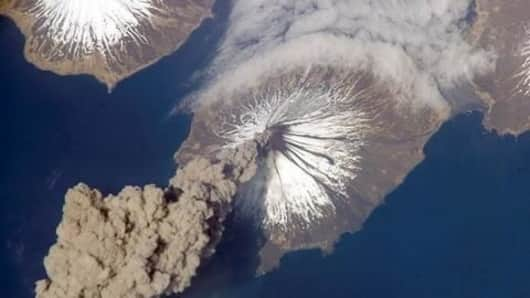 Tsunami, triggered by volcano, kills 43 in Indonesia
In the Indonesian islands of Java and Sumatra, a tsunami believed to have been triggered by volcanic activity killed 43 and injured nearly 600, the country's disaster management agency said on Sunday.
The volcano is known as 'child' of the legendary Krakatoa, officials said.
Pandeglang, South Lampung and Serang regions were worst affected and officials said the death toll is likely to rise.
Full moon made waves stronger, underwater landslide contributed to havoc
According to authorities, the full moon could have lend strength to the waves. Along with an underwater slide, after the eruption of Anak Krakatoa, the waves wreaked havoc in the area.
National disaster agency spokesman Sutopo Purwo Nugroho said, "The combination caused a sudden tsunami that hit the coast."
He said officials are working to ascertain the actual reason behind the disaster.
Expert explains how this eruption was different from others
Volcanologist, Jess Phoenix told BBC, usually hot magma is pushed underground when volcanoes erupt. This leads to a landslide. Since Krakatoa is underwater, so in this case, an undersea landslide occurred and it pushed the water as it moved. This could have caused the tsunami.
Love World news?
Stay updated with the latest happenings.
Yes, notify me
Eyewitness tells the water went dark
Notably, after the first wave, agencies asked locals to not panic and ruled out the possibility of a tsunami. Later, Nugroho apologized on Twitter.
In Pandeglang district, 33 people lost their lives and 491 were injured.
15-year-old Muhammad Bintang explained to AFP what happened at Carita beach. He said, "Suddenly the water came -- it went dark, the electricity is off."
Krakatoa erupted in 19th century, killed thousands
Krakatoa erupted in 1883 and it was the one of most violent disasters, killing nearly 30,000.
The eruptions were heard from thousands of kilometers away and the world's temperature dropped by 1-degree Celsius. Eventually, the island disappeared.
In 2004, a tsunami triggered by the undersea earthquake killed 1,68,000 people in Indonesia.
Notably, in September Indonesia was hit by an earthquake which killed nearly 2,000.