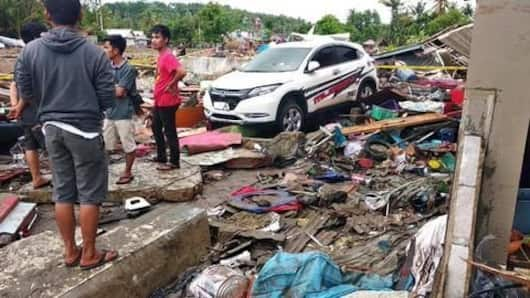 Indonesia: Tsunami kills 281, injures 1016; more deadly waves feared
On Saturday, giant waves crashed the Indonesian islands of Java and Sumatra killing 281 and injuring 1,016. But the woes of the locals are far from over as weather officials have warned more deadly tsunamis could strike the coasts.
The tsunami was triggered by the eruption of the volcano Anak Krakatau. The volcanic activity started underwater landslide and waves wreaked havoc.
Here's more.
As volcano continues to erupt, people advised to stay cautious
Notably, Anak Krakatau erupted again on Sunday prompting officials to sound a warning.
Sutopo Purwo Nugroho, the spokesperson of the country's disaster mitigation agency said people have been cautioned. Everyone has been advised to steer clear of the coasts.
Nugroho added agencies are working to analyze the root cause.
"The Krakatau volcano continues to erupt, which could potentially trigger another tsunami," he said.
Nugroho explains why no warning was given
Anak Krakatau witnessed activity in the recent months and people were told to stay cautious.
Explaining why an alert wasn't sounded, Nugroho said Indonesia's early warning system can monitor earthquakes but not underwater landslides.
However, he added that since Indonesia has 13% of the world's volcanoes, it needed a system which could warn people beforehand.
He cited lack of funds as a reason.
Love World news?
Stay updated with the latest happenings.
Yes, notify me
Houses ruined, cars swept away and trees uprooted
The waves, which got more strength due to the full moon, destroyed houses, swept away cars and uprooted trees in various areas including Tanjung Lesung beach resort.
A local band Seventeen was performing when the waves descended. Viral footage shows the stage being washed away.
The band's bass player and manager were killed and three other members are missing, confirmed lead singer Riefian Fajarsyah.
Rescue operation being hit by blocked roads
As hundreds remain missing, the rescue operation is in full swing. Though the operation is facing hurdles due to blocked roads, heavy lifting equipment is being sent to worst affected areas.
Pope Francis expressed his condolences on the tragedy and said, "I am spiritually close to the displaced and to all the people affected, imploring God for relief in their suffering."
America is with you, tweets Donald Trump
Unthinkable devastation from the tsunami disaster in Indonesia. More than two hundred dead and nearly a thousand injured or unaccounted for. We are praying for recovery and healing. America is with you!

— Donald J. Trump (@realDonaldTrump) December 23, 2018
How was the Indonesian tsunami triggered?
Asked 2018-12-24 10:41:26 by Abhinav Bose
Answered by NewsBytes
After the eruption of volcano Anak Krakatau, an underwater landslide occurred which led to the tsunami.
How many people have died?
Asked 2018-12-24 10:41:26 by Shreyas Sharma
Answered by NewsBytes
Reports claim as many as 281 people died and 1016 were injured in the tsunami.
Is it possible that more tsunamis could strike?
Asked 2018-12-24 10:41:26 by Rakesh Malik
Answered by NewsBytes
Weather officials said since the volcano is continuing to erupt, more tsunamis could strike the coastal areas.
Was a warning sounded earlier?
Asked 2018-12-24 10:41:26 by Aarav Kapoor
Answered by NewsBytes
Since Indonesia's early warning system can't detect underwater landslides, an early warning wasn't given.