World
Theresa May discusses liberal visa scheme for Indian businessmen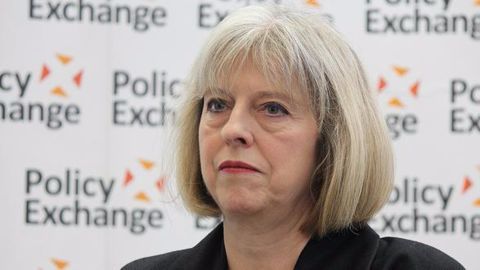 British Prime Minister Theresa May arrived in India for her 3-day visit which is aimed at enhancing Indo-UK relations in the areas of trade, investment, defence and security.
Speaking at the India-UK Tech Summit, May talked about the new visa scheme, the 'Registered Traveller Scheme'.
This is a first-ever visa regime for Indian businessmen which facilitates a significantly easier entry process, into the UK.
In context:
British PM Theresa May in India
07 Nov 2016

May's visit to be a first bilateral trip outside Europe
British PM Theresa May was scheduled for a 3-day visit to India, marking her first bilateral trip outside Europe, since taking office in July 2016.
She described India as UK's "most important and closest" friend and a leading power in the world.
May said she would use the visit to reaffirm the importance of strategic partnership, which already exists between the two countries.
Agenda

What's on the agenda?
During her India trip, Theresa May will visit Delhi and Bengaluru.
In Delhi she will meet and hold talks with Indian Prime Minister Narendra Modi. Both of them are set to jointly inaugurate the India-UK Tech Summit on 7 Nov.
On 8 Nov, May would travel to Bengaluru where she will attend business events and also meet Karnataka CM Siddaramaiah.
Love World news?


Stay updated with the latest happenings.
Significance of the visit

Theresa May's visit comes at a time when the value of the pound has fallen 20%, and the UK economy took a huge hit, post Brexit (UK's exit from the European Union).
Details

Trade and commerce to be the focus of visit
Theresa May will be accompanied by senior British Ministers and a big trade delegation.
A number of commercial deals are expected to be signed during her visit, to create jobs and demonstrate market confidence in the strength of UK economy. This includes three deals worth £370 million between private companies of both sides.
Immigration, defence and security are other key issues to be discussed.
07 Nov 2016

Theresa May discusses liberal visa scheme for Indian businessmen
08 Nov 2016

Visa, extradition issues top Indo-UK talks
Stringent rules for Indians to acquire UK visas was one of the main issues being discussed during British PM Theresa May's visit to India; relaxation of rules for student visas continued to prove contentious.
PM May said "The UK will consider further improvements to our visa offer" if illegal Indian immigrants moved out.
Meanwhile, India continued to push for Vijay Mallya's extradition.