World
Pakistan fears Trump favouring India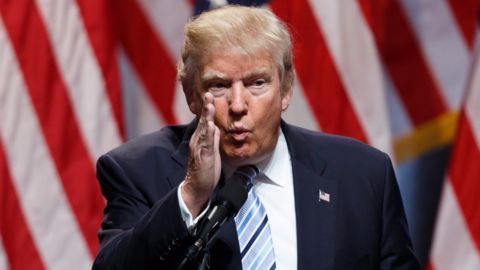 Donald Trump's win has Pakistan jittery as the South-East Asian nation fears that Trump might favour India.
Trump has spoken about strengthening business ties with India and has proposed a ban on Muslims entering the USA which is worrisome to Pakistan.
While Trump is yet to decide on the policy for South Asia, he once proposed to intercede between India and Pakistan.
In context:
Trump's Presidency: How Pakistan, India will be affected?
Trump on Pakistan

Trump's campaign stand on Pakistan
Trump, from the onset of his campaigning days, spoke about Pakistan and it breeding terrorism on numerous occasions.
He once tweeted: "When will Pakistan apologize to us for providing safe sanctuary to Osama Bin Laden for 6 years?! Some ally."
In September, Trump called Pakistan "probably the most dangerous" country in the world, adding that only India can "check" Pakistan.
12 Nov 2016

Pakistan fears Trump favouring India
Love World news?


Stay updated with the latest happenings.
Trump to decide on the war in Afghanistan

15 years after the US-led campaign overthrew the radical Islamist Taliban government, now Trump will take a call on whether to support the US troops in Afghanistan or reduce the scope of the Afghan mission.
Counter opinion

Trump might not necessarily be bad for Pakistan: Tharoor explains
Shashi Tharoor, former head of the parliamentary panel on external affairs said that while Trump was against radical Islam, the Pakistani generals have in the past proved proficient in persuading Republicans that "they are the best bulwark against Islamist terror."
The GHQ Rawalpindi had obtained $11 billion in military aid from the US through this rhetoric.
Tharoor said the same might get repeated under Trump.
Trump-China relation

Trump's stand on China may also benefit India
Trump warned to "label China as a currency manipulator" during his campaign.
He also called for higher tariffs on Chinese goods and start litigation against China for stealing American trade secrets.
Trump hopes to convince the WTO to cut down Chinese trade subsidies.
Trump's commitment to counter China could open opportunities for diverting a part of the trade from China to India.
10 Nov 2016

How Trump's presidency can impact India negatively?
Trump's immigration policies will definitely affect India as his stand corresponding to moving jobs outside the US is well-known.
Trump believes that the current age is the one of "greatest jobs theft" and this may have consequences for "free trade, immigration, outsourcing etc."
Trump has proposed to lower the corporate tax from 35% to 15%. This may cause foreign companies to move to US.
Love World news?


Stay updated with the latest happenings.
18 Nov 2016

Trump will declare Pakistan a "terror state"- Trump's team
Shalabh Kumar, a key Indian-origin member of Donald Trump's advisory council has stated that Trump will ensure that a bill is passed declaring Pakistan a "terrorist" state.
He added that, given Trump and Modi's "chemistry", "Indo-US partnership is expected to touch new heights under Trump Presidency."
However there has been no official comment from Trump on any of his controversial policy proposals yet.
01 Dec 2016

Trump team issues clarification on Trump-Nawaz conversation
President-elect Donald Trump's team has issued a clarification over Pakistan's version of the conversation Nawaz Sharif had with Trump.
Officials said the "flowery" Pakistani account of Sharif's customary phone call to congratulate Trump, committed Trump to more than he meant.
Members of Trump's transition team had to issue the clarification as they said the Pakistani version was "inappropriate."
05 Dec 2016

Sharif may attend Trump's swearing-in
Sources said that Pakistani Prime Minister Nawaz Sharif is keen to attend Donald Trump's swearing-in ceremony at Washington in January.
The news comes after the recent debacle over the US and Pakistani version of the congratulatory phone call between Donald Trump and Nawaz Sharif.
Sharif's visit is also aimed at securing a possible bilateral meeting with Trump as he assumes office.
08 Feb 2017

Trump may treat India and Pakistan equally: Chinese newspaper
According to a Chinese state-run daily, President Trump may follow balanced strategies towards India and Pakistan, unlike predecessor Barack Obama who adopted "pro-India" policies in his final years.
The daily said, "Trump called Pakistani PM first after winning the election, which may be a crucial signal. He would take a more balanced strategy between New Delhi and Islamabad."
13 Feb 2017

Aziz: Pak seeks friendly ties with US
Sartaj Aziz clarified that Pakistan seeks to establish warm and friendly ties with the Trump administration. He said Nawaz Sharif's phone call with Trump was very productive and a step in that direction.
He added that Pakistan would continue to seek international support against India's "occupation" of Kashmir.
He also clarified that the US had not placed any travel restrictions on Pakistanis.