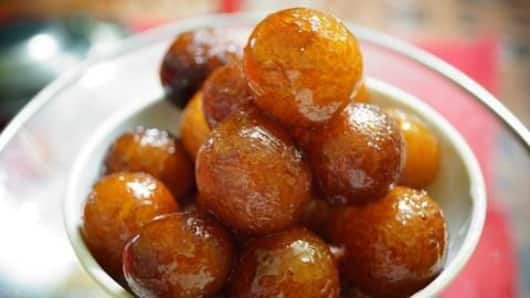 Pakistan declares 'gulab jamun' as national sweet, leaves Indians fuming
In what came as a surprise to many, the government of Pakistan recently declared gulab jamun as their national sweet.
The announcement was made on their official Twitter handle and it did not sit well with both Indian (can you blame?) and the Pakistani netizens.
While the Pakistanis hoped for something like kheer, Indians were angry, claiming gulab jamun is theirs.
Here's what went down.
Pakistan government had created poll to ascertain its national sweet
On New Year's eve, the government of Pakistan took to Twitter to take a poll titled 'What is the National Sweet of Pakistan?'
There were three options given- jalebi, gulab jamun, and barfi.
The results were announced on January 1, declaring gulab jamun as the winner.
Gulab jamun had received 47% of the votes, followed by jalebi (39%) and barfi (19%).
Here is the announcement by government of Pakistan
Poll Question: What is the National Sweet Of Pakistan?
Answer: The right answer is Gulab Jamun. pic.twitter.com/zL0jgnjX06

— Govt of Pakistan (@pid_gov) January 1, 2019
Love World news?
Stay updated with the latest happenings.
Yes, notify Me
Pakistan netizens unhappy as poll didn't include Facebook, Instagram users
Some Pakistani netizens expressed happiness over it, while many didn't like the decision, and hoped for jalebi or barfi or kheer to be the winner.
Many netizens were also angry over the fact that the poll didn't include Facebook and Instagram platforms, which have 32 million and 5.2 million users, respectively, in Pakistan and Twitter has 5 million users in the country.
Indian Twitterati left angry, says 'Just do with jalebi'
Meanwhile, Indian Twitterati was angry with the result for a totally different reason claiming that gulab jamun is an Indian dish, and the neighboring country cannot declare it as their national sweet dish.
There were some heated comments as well as one netizen wrote, "We don't even give our sweets to neighbors and they want gulab jamun. Just do with jalebi."
Go find some Arabian sweet, says one Indian
its indian sweet ! go find some arabian sweet !🇮🇳🇮🇳🇮🇳🇮🇳

— Narendra Modi 💧 (@sahugaurav36211) January 1, 2019
'Make deendayal ka halwa your national sweet dish'
Gulab Jamun belongs to India 😠😠😠😠...make deendayal ka halwa your national sweet dish if you want to. https://t.co/sIXdK3UZUR

— Rafale Gandhi (@RoflGandhi_) January 7, 2019
'Hum apna rasgulla parosi riyasat ko nahi lene dete'
Sharam.Karo Ye India Waloun ka hai
Hum Apna Rasgoola Parosi Riyasat Ko Nahi Lene dete Aur Inko Gulab Jamun Chaye Jalebi se Kaam Chalao tum log

— Pilable Modi پائلابول مودی🚩 (@RoflModi56) January 6, 2019
Don't forget, the famous 'rosogolla' fight between Odisha and Bengal
Indians reactions aren't shocking as we are pretty particular about our dishes' origins.
One example is Odisha v/s West Bengal over rosogolla.
Bengalis claim that rosogolla was invented by Kolkata-based sweetmaker Nobin Chandra Das in 1868.
But, Odisha claims rosogolla was first offered as bhog on the ninth day of Jagannath Yatra, and was named 'Pahala rosogolla' after Puri, dating back to 12th century.
'Gulab jamun' was first prepared in medieval India
Coming to facts, gulab jamun was first prepared in medieval India, derived from a fritter that Central Asian Turkish invaders brought to India.
The word 'gulab' comes from Persian words gol (flower) and ab (water) referring to the rose water-scented syrup.
The word 'jamun' or 'jaman' is a Hindi-Urdu word for an Indian-fruit similar in shape and size, and commonly known as black plum.