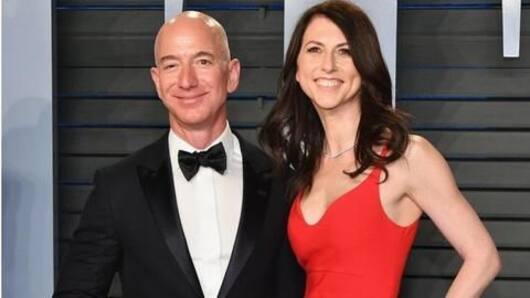 Jeff Bezos' affair with TV host led to divorce?
Jeff Bezos announced a divorce from his wife MacKenzie Bezos yesterday, January 9, as we reported.
After 25 years of marriage, the couple has split and stakeholders are concerned about how the divorce will affect Amazon, Bezos' behemoth company.
However, to put a fresh twist to things, it appears Bezos was in a relationship with another woman before the divorce was finalized.
A bit about Bezos' extramarital affair
Credits:
According to reports from the New York Post and Enquirer, Bezos has been in a relationship with Lauren Sanchez who is a former TV anchor, besides being a helicopter pilot and the wife of Patrick Whitesell, the Hollywood talent agent.
At the time Bezos and Sanchez were engaging in their relationship, the latter was separated from Whitesell, as the reports suggest.
MacKenzie was aware of her husband, Bezos' relationship
While Bezos was going out with Sanchez, he too was separated from his wife MacKenzie.
There was apparently no secrecy shrouding Bezos' extramarital relationship. A source close to Bezos has reportedly stated that Mackenzie was aware of the fact that her husband was dating Sanchez.
Notably, this source refused to be named in the discussion of personal matters in the Bezos' life.
Love World news?
Stay updated with the latest happenings.
Yes, notify Me
A brief history about Bezos and MacKenzie
Bezos and MacKenzie met and married while working at DE Shaw, a New York-based hedge fund.
They soon moved to Seattle where Bezos launched Amazon. MacKenzie, who is a novelist, was his constant support when he decided to take the risk and build the company.
Notably, shares of Amazon plummeted after the couple announced separation.
Yesterday, Bezos and MacKenzie informed people about the decision
The statement, signed by couple read, "After a long period of loving exploration and trial separation, we have decided to divorce and continue our shared lives as friends."
The couple said they were incredibly lucky to have found one other and all the years were blissful.
"If we had known we would separate after 25 years, we would do it all again," it read.
What an equal splitting of assets could mean for couple
Credits:
Since there is no prenup apparently, Bezos and MacKenzie might split assets equally in their divorce process.
This indicates that half of Bezos' total wealth of $137 billion, as estimated by Bloomberg Billionaires Index, could go to MacKenzie.
With $69 billion each, MacKenzie could become the world's richest woman, while Bill Gates with $92.5 billion could eclipse Bezos, becoming the world's richest man again.
Despite money involved, divorce likely to be amicable
Despite the immense money involved, the divorce between Bezos and MacKenzie is likely to be amicable and conducted with business-like professionalism since it might otherwise concern investors of the publicly traded company, Amazon, where most of their wealth is tied up.
While the equal split scenario is unlikely, divorce lawyers suggest, the couple might have made a framework to split assets, before divorce announcement.
How long have Jeff and MacKenzie Bezos been married?
Asked 2019-01-10 17:31:27 by Shreya Dutta
Answered by NewsBytes
Jeff and MacKenzie have been married for 25 years.
How much is Jeff Bezos worth?
Asked 2019-01-10 17:31:27 by Shaurya Chatterjee
Answered by NewsBytes
Jeff Bezos net worth is over $150 billion.
When did Bezos get married?
Asked 2019-01-10 17:31:27 by Shreyas Gavde
Answered by NewsBytes
Jeff Bezos married his wife MacKenzie in 1993.
Who is Jeff Bezos?
Asked 2019-01-10 17:31:27 by Parakram Mittal
Answered by NewsBytes
Jeff Bezos is the founder of Amazon.com Inc.