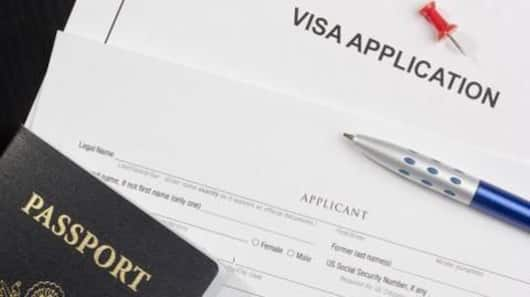 Good news for Indians: US introduces 15-day H-1B visa processing
In what comes as good news for Indian professionals seeking to work in the US, the US Citizenship and Immigration Services (USCIS), announced last week that it will resume premium processing for all H-1B visa applications filed on or before December 21, 2018, starting Tuesday.
The option had earlier been suspended, but the resumption of it allows for faster processing of applications.
Here's more.
Why the premium processing option will come as a relief
For those unaware, the premium processing service provides accelerated 15-calendar day processing for certain employment-based visa applications for an additional fee of $1,410, which was hiked by 15% last year.
Although this fee is over and above all other filing fees, many are expected to opt for it, considering that the normal processing time for H-1B visas currently stands at a whopping 5.2 months.
Indian workers and Indian IT firms are likely to benefit
Now that the USCIS has resumed the premium processing service, Indians are highly likely to benefit from it, considering the fact that 60% of annual H-1B allotments typically go to Indian workers.
The biggest beneficiary is the Indian IT services sector, as both Indian tech firms and American tech firms have to take the H-1B visa route to hire highly-skilled foreign workers - primarily Indians and Chinese workers.
Love World news?
Stay updated with the latest happenings.
Yes, notify Me
However, Indian firms will also have to hire locally
While this move will come as a relief for Indian workers and Indian firms, it does not signal any change in the Trump administration's policy requiring Indian firms to hire more US workers.
Complying with the same, Indian IT players such as Tata Consultancy Services (TCS), Infosys, Wipro, and HCL Technologies have already stepped up local hiring in the US.
The move comes on the back of other changes
Notably, the move also comes on the back of earlier changes proposed in the H-1B lottery system - changes that are also expected to benefit Indians.
The new rules, which come into effect on April 1, 2019, not only requires H-1B applicants to electronically pre-register with the USCIS for the annual visa lottery, but also allows the USCIS to reverse the lottery order.
A brief overview of the H-1B lottery process
Annually, the US awards 65,000 H-1B visas, and an additional 20,000 visas are awarded to advanced degree-holders educated in the US. Since the number of applicants far exceed the annual H-1B quota, the USCIS allots H-1B visas through a random lottery process.
The new H-1B lottery order
Under the current lottery process, the USCIS randomly selects 20,000 applicants from a pool of US advanced degree holders, then puts remaining applications in the larger pool, and randomly selects 65,000 applicants.
However, under the new process, all applicants would first be put in the same pool, and 65,000 applicants would be randomly selected. Then, all unselected US advanced degree-holders would be put into the pool reserved for them, and 20,000 applicants would be selected.
What the changes mean for H-1B applicants
According to the Department of Homeland Security (DHS), the new process would lead to an increase of 16% in the number of selected H-1B beneficiaries who hold a master's degree or more advanced degrees from an educational institute in the US.
However, according to USCIS estimates, the changes would result in a 3% increase in the number of H-1B visas going to such applicants.
US-educated Indians could significantly benefit from the changes
Given the fact that currently 95,651 Indians are pursuing advanced degrees in the US, and 75,390 Indians are engaged in practical training after graduation, the preference of US advanced degree holders could significantly benefit US-educated Indians.
What is the H-1B visa program?
Asked 2019-02-19 12:46:08 by Vihaan Tata
Answered by NewsBytes
The H-1B program is a non-immigrant visa program that allows US companies to hire foreign workers in speciality occupations that require theoretical or technical expertise. Every year, tens of thousands of foreign workers enter the US via the program.
How many H-1B visas are allotted every year?
Asked 2019-02-19 12:46:08 by Pranav Balasubramanium
Answered by NewsBytes
Annually, the US awards 65,000 H-1B visas, and an additional 20,000 visas are awarded to advanced degree-holders educated in the US.
How many people applied for H-1B visas in 2018-19?
Asked 2019-02-19 12:46:08 by Trishla Pawar
Answered by NewsBytes
In 2018-19, 1.9 lakh H-1B visa applications were filed.
What proportion of H-1B visas do Indians get?
Asked 2019-02-19 12:46:08 by Ishan Sharma
Answered by NewsBytes
Indian workers typically secure around 60% of H-1B visa allotments.