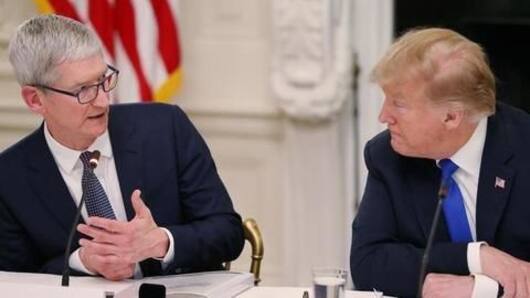 Donald Trump calls Apple CEO Tim "Apple", Internet LOLs hard
According to US President Donald Trump, the last name of Apple CEO is "Apple" and not "Cook", and we aren't making this up.
At the tail-end of American Workforce Policy Advisory Board meeting at the White House on Wednesday, Trump addressed Tim Cook as Tim "Apple". Cook, who was sitting next to him, nodded.
Meanwhile, social media laughed out loud at the gaffe.
Are you speaking to me, Mr. President?
Trump chaired the important meeting meant to discuss technology's importance in education.
Concluding the meeting, Trump said "people like Tim" were doing things he always wanted them to do.
"I used to say, 'Tim, you gotta start doing it here,' and you really have you've really put a big investment in our country. We really appreciate it very much, Tim Apple," he said.
Love World news?
Stay updated with the latest happenings.
Yes, notify Me
As it turns out, Trump is known for such mistakes
One would like to believe this is the first time Trump made such a mistake. But this isn't true.
In March last year, he made the same gaffe when referring to CEO of Lockheed Martin, a US-based defense company.
Asking her to say a few words, Trump said, "I may ask Marillyn Lockheed, the leading women's business executive in this country." Her last name is Hewson!
Trump doesn't like people's names, so "changes" them
It should be noted Trump has nicknames for his adversaries like Elizabeth Warren, Hillary Clinton, and Bernie Sanders.
But the nicknames aren't just limited to his political opponents. He referred to Amazon CEO Jeff Bezos, as "Jeff Bozo".
Bezos and Trump have a bitter relationship mainly because the Washington Post, owned by the billionaire, has been critical of the President.
In 2016, Trump wanted people to boycott Apple
Trump also doesn't share an amicable relationship with Cook. The CEO of the tech giant has been critical of Trump's views on the LGBTQ community, immigration, and others.
Before he was elected to office, Trump called for boycotting Apple in 2016 after the company refused to assist the FBI to crack an iPhone used by Syed Rizwan Farook, a terror suspect.
Twitter users had the best reactions to this gaffe
But time has changed the resentful relationship between Cook and Trump. The 58-year-old is one of the tech elitists willing to sit down with Trump.
And Trump's words at the end of important meeting hinted Cook has found a place for himself in the former's good books.
Nevertheless, the slip-up gave netizens another chance to make fun of Trump. The jokes on Twitter kept flowing.
Steve Jobs was bound to be mentioned
Steve Apple must be rolling in his grave.

— Anthony Reinhart (@ajreinhart) March 6, 2019