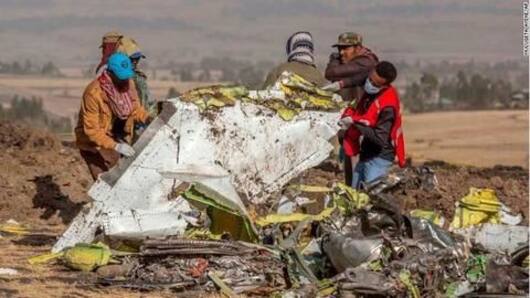 #EthiopianPlaneCrash: Witnesses say plane smoked, trembled before meeting its end
Ethiopian Airlines plane, which killed all aboard, was emitting white smoke and trembling before it went into a million pieces ahead of its crash on Sunday, said locals who witnessed the mishap.
According to the witnesses, the plane, during its last moments, gave out a strange sound that panicked the cattle around the crash site.
It rotated twice and then crashed emitting black fumes.
Boeing 737 Max 8 aircraft crashed on Sunday, killing 157
Ethiopian Airlines Boeing 737 MAX 8 plane (ET302) took off from Addis Ababa Bole International Airport at 8:38AM local time, and crashed after just six minutes.
A total of 157 people, including crew members, were killed in the crash.
The pilot apparently could sense that the aircraft was facing issues, and had requested for permission to return.
However, it was too late by then.
Rattling sound, trail of white fumes caught locals' attention
The locals, who were around the crash site, got alerted by the metal's rattling sound and white fumes in the air.
"It was a loud rattling sound. Like straining and shaking metal," describes Turn Buzun, 26, farmer and housewife.
25-year-old Tamirat Abera was walking through the field when he saw the plane turn sharply towards the ground with a trail of white smoke.
Love World news?
Stay updated with the latest happenings.
Yes, notify Me
'It tried to climb but, failed. Went down nose first'
"It tried to climb but, failed, and went down nose first. There was fire and white smoke turned black," said Abera.
Locals further said children's books, shoes, clothing, perfume, handbags, etc, lay in around 300 meters of the death site.
Along with the belongings, officials have also found the black box from the airplane, which will be put to investigation soon.
What is a Black Box?
Black Box is an electronic recorder placed inside the flight to investigate aviation accidents. It consists of two parts: Cockpit Voice recorder (two hours of cockpit sounds and conversation) and Flight Data Recorder (collects data from other parts of the plane).
Boeing faces backlash from around the world over the crash
Following the incident, China, Ethiopia, Indonesia and Singapore, have stopped their airlines from using Boeing aircraft until further notice.
Singapore has even banned the aircraft from its air space.
Meanwhile, the Chicago (United States)-based company, Boeing, has sent its technical team to the accident site to provide technical assistance.
They have now postponed the launch of Boeing 777 until completion of investigation.
How is Black Box protected?
Asked 2019-03-13 00:08:11 by Ridhi Chatterjee
Answered by NewsBytes
Black Box is kept at the tail of the plane, which lessens the impact plus it is protected by heavy metal.
What if Black Box is also destroyed?
Asked 2019-03-13 00:08:11 by Parakram Banerjee
Answered by NewsBytes
There will be no other way to know what happened in the plane before crash.
Is the black box from the Ethiopian Airline ok?
Asked 2019-03-13 00:08:11 by Abhinav Balasubramanium
Answered by NewsBytes
The team at the crash has found it. There will be investigation regarding its content.
How many crew members were there on the Ethiopian Airline?
Asked 2019-03-13 00:08:11 by Devansh Yadav
Answered by NewsBytes
There were 8 crew members and 149 passengers on the plane.