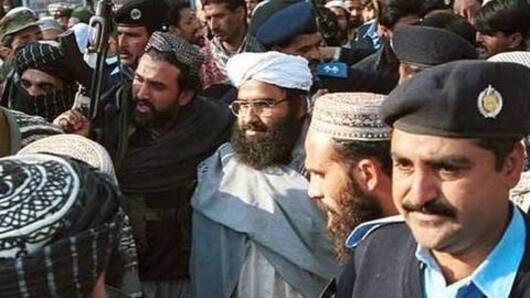 Why does China keep protecting Masood Azhar?
India has been fuming after China chose to side with Jaish-e-Mohammed founder Masood Azhar at United Nations Security Council.
The Asian giant blocked a plea to designate Azhar as a global terrorist for the fourth time on Thursday. The MEA said India was "disappointed" with the outcome but thanked the countries which lent their support.
But why does China keep protecting Azhar? Let's understand.
US, UK and France wanted action against Azhar
The P-3 nations- the US, the UK, and France had moved the fresh plea against Azhar on February 27, days after JeM executed the Pulwama attack.
Had Azhar been tagged as a global terrorist under the 1267 al-Qaeda Sanctions Committee of UNSC, he wouldn't have been able to travel. Azhar's assets would have been frozen as well.
But China spoiled the efforts.
Need more time to assess matter, said China defending decision
After a plea is moved in UNSC, members have ten days to raise objections.
The no-objection period deadline for the latest proposal was 3 PM (New York local time) and China acted at the eleventh hour.
Defending the decision, Chinese Foreign Ministry spokesman Lu Kang said, "Our action is to make sure that the committee will have enough time to study the matter."
Love World news?
Stay updated with the latest happenings.
Yes, notify Me
India has been trying to blacklist Azhar since 2009
But China has always had a soft spot for Azhar, the terrorist who was released by India in 1999 in exchange for hijacked passengers aboard the IC-814 flight.
India made such an attempt for the first time in 2009 but China, a veto-wielding permanent member, played spoilsport.
Seven years later, India showed more seriousness against Azhar after the airbase camp in Pathankot was attacked.
China has always put a "technical hold"
India moved a plea in UNSC in February 2016. China, acting on Pakistan's behest, put a technical hold on it in March and in October again.
In December of that year, China used its veto power to scrap the proposal, a day before the deadline ended.
China did the same on January 19, 2017, when P-3 nations wanted UNSC to act against Azhar.
China needles India but supports Pakistan
Credits:
China's move once again confirms the obvious: India isn't a friend but Pakistan is.
Notably, both China and Pakistan help one another on global platforms. Islamabad helps Beijing in the Non-Aligned Movement, where the latter has scant representation, and in return gets support in UNSC.
Another plausible explanation is that China holds grudge against New Delhi for "sheltering" Dalai Lama.
Hafiz Saeed was listed as global terrorist but nothing changed
While India has been throwing its weight to get Azhar listed as a global terrorist, it should be remembered that it is only symbolic.
Years ago, Lashkar-e-Taiba chief Hafiz Saeed was designated as global terrorist by UNSC. As a result, he was put under detention. His detention term expired in March 2009 and it was extended for three months.
But Saeed challenged this decision.
Saeed was released after he cried conspiracy
Credits:
Saeed told the Lahore High Court that reasons for his detention weren't shown to him within 15 days, as the law states.
He argued that the UN had a "bias against Muslim countries" and that the US and India "conspired" to put him in jail. He added UN listing didn't mean an individual has to be arrested.
Subsequently, Saeed was released.
India should stop expecting support from China
Announcing the verdict, the court said that India's claims of Saeed being the mastermind of 26/11 attacks on Mumbai weren't concrete.
Saeed's freedom proved the UNSC listing doesn't mean much till Pakistan changes the way it functions.
While India seeks validation from UNSC, it is high time to realize that China was never (and possibly never will be) an ally.
Why did China protect Masood Azhar at UNSC?
Asked 2019-03-14 18:25:45 by Chirag Subramanium
Answered by NewsBytes
China said it put a technical hold on Masood Azhar's plea to buy more time. "Our action is to make sure that the committee will have enough time to study the matter so that the relevant sides will have time for dialogue and consultation," Chinese spokesman Lu Kang said.
Who moved a plea against China at UNSC?
Asked 2019-03-14 18:25:45 by Navya Dutta
Answered by NewsBytes
The P-3 nations: UK, US, and France moved plea against Masood Azhar.
How did India react to China's move?
Asked 2019-03-14 18:25:45 by Shreyas Sen
Answered by NewsBytes
Without naming China, India released a statement that it was "disappointed" with the outcome.
When was Masood Azhar released by India?
Asked 2019-03-14 18:25:45 by Aaradhya Mehra
Answered by NewsBytes
Masood Azhar was released by India in 1999.